Sweetcorn Kebabs
Serves: 4
Ready in: 30 to 60 mins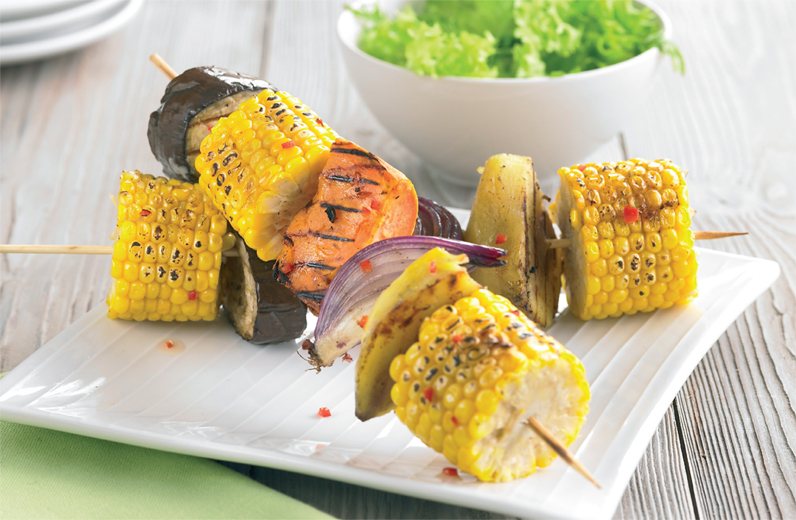 Ingredients:
4 wooden skewers (soaked in water)
2 corn on the cobs, each cut into 4 thick slices
2 large aubergine, each into 6 slices
4 small red onions, cut into quarters
2 large sweet potatoes, peeled and cut in thick wedges
1 large kumara, peeled and cut into thick wedges
[hd]for the marinade[/hd]
2.5cm piece fresh root ginger, peeled and grated
1 small onion, peeled and finely chopped
1 garlic clove, peeled and crushed
1/2 red chilli, deseeded and finely chopped
zest and juice of 1/2 lemon
200ml coconut milk
method:
Put the skewers to soak at least 30 minutes prior to grilling them. Make the sauce and set aside. To prepare the kebabs, thread the vegetables onto the skewers and place each one on a piece of foil and brush with the sauce. Wrap the foil around each kebab and barbecue them for approximately 15 minutes.
Remove the foil and place the kebabs directly onto the barby, turning, until slightly browned.
Print Recipe
www.barfoots.co.uk
Did you make this recipe?
Share your creations by tagging @livegreenandgood on Instagram with the hashtag #livegreenandgood