Sweet Potato and Tomato Dauphinoise
Serves: 4
Ready in: 30 to 60 mins
Eco Friendly Gluten Free‏ Vegan Friendly
Know your nutrients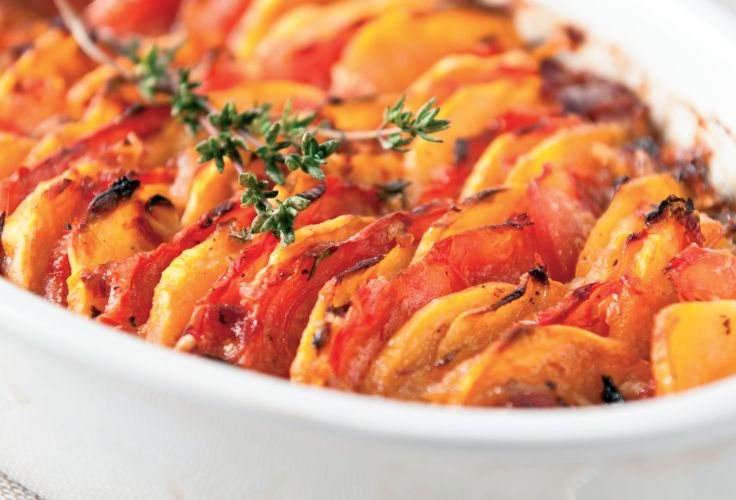 Ingredients:
50g dairy-free spread
1 large onion, sliced into rings
2 garlic cloves, crushed
10 sundried tomatoes, drained
500ml Kallo Unsweetened Soya Milk
1kg sweet potatoes, peeled and thinly sliced
10 tomatoes, sliced and ends removed
2 tsp thyme leaves, finely chopped
sea salt and freshly ground black pepper
method:
Start by preheating the oven to 200C/400F/Gas 6. Melt the dairy-free spread in a large, heavy-based saucepan over a medium heat.
Add the onion and fry for 2-3 mins, stirring occasionally, until just starting to turn golden. Add the garlic and cook for one minute, taking care not to burn it.
Put the sundried tomatoes in a mini food processor and blend to a paste. Spoon into a large mixing bowl, pour in the soya milk and season generously with plenty of salt and pepper.
Add the thyme, onion and garlic and mix thoroughly with a wooden spoon. Add the sweet potatoes and mix again, then add in the tomatoes and stir gently, taking care not to break up the tomatoes.
Spoon the mixture into a large ovenproof dish and move the potatoes and tomatoes around to even the surface.
Bake for 50 mins, then remove from the oven and gently turn the top layer of vegetables over so that the lower layers sit on top. Bake for a further 25-30 mins until the sweet potatoes are tender.
Print Recipe
www.kallofoods.com
Did you make this recipe?
Share your creations by tagging @livegreenandgood on Instagram with the hashtag #livegreenandgood