SPRING VEG SOUP
Serves: 2
Cost Cutting Eco Friendly Gluten Free‏ Quick Make Vegan Friendly
This soup can be made with any new-season spring vegetables. I've used wild garlic as it grows in profusion where I live, and also monk's beard (also known as agretti) as I love its fresh minerally taste and crisp succulent texture. It looks similar to chives, but its overriding flavour is similar to a combination of samphire, asparagus and spinach, all of which can be used as substitutions.To minimise washing up, this soup can be made in a tiered steamer: the potatoes cooked in the vegetable stock in the base, and the green veg steamed above. Recipe taken from Vegan Soups - Over 100 recipes for soups, sprinkles, toppings & twists by Amber Locke (Mitchell Beazley, £7.99)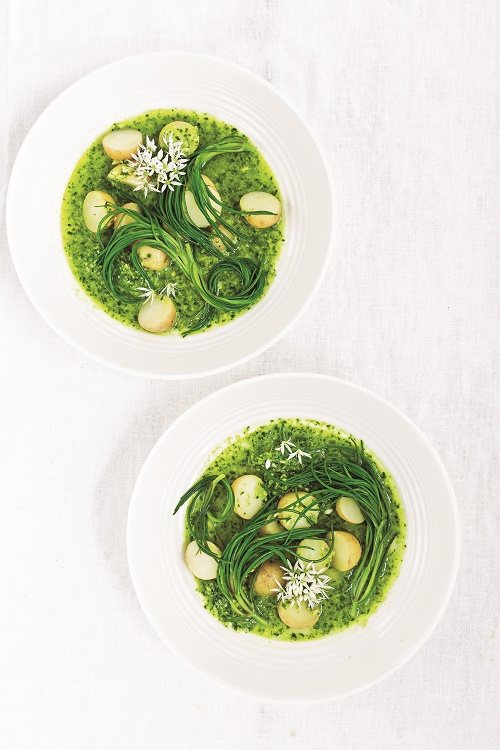 Ingredients:
250g baby new potatoes, cut in half
4-5 wild garlic leaves, plus flowers to garnish, or 2 garlic cloves, peeled and left whole
600ml hot cooked vegetable stock
½ large head of broccoli, broken into small florets
2 large handfuls of monk's beard, samphire, baby spinach leaves or asparagus spears, woody ends broken off
salt and pepper
Fresh Herb Pesto, to serve
FOR THE FRESH HERB PESTO:
1 large handful of tender-leaf herbs, such as basil, parsley, mint, dill, tarragon and/or coriander
100ml extra virgin olive oil
50-70g nuts or seeds, such as pine nuts, almonds, walnuts, pistachio nuts or sunflower seeds
2 garlic cloves, peeled and left whole
salt and pepper
method:
Place the new potatoes and garlic cloves, if using instead of wild garlic, in a saucepan or in the base of a tiered steamer and pour over the stock. Bring to a simmer and place the broccoli and monk's beard in the steamer baskets above; the monk's beard will take the least time to cook so put this on the top. Steam the green vegetables until they're just cooked and simmer the potatoes until they're tender. (If you don't have a steamer, boil the potatoes and garlic and cook the broccoli in a separate pan for 4-5 minutes, and the monk's beard in a third pan for 2-3 minutes.
Remove half of the potatoes from the stock and set aside. Tip the broccoli into the pan with the remaining potatoes and the wild garlic, if using instead of the whole cloves, and blitz with a stick blender to make a finely textured soup. Alternatively, blend in a food processor.
For the Fresh Herb Pesto, put all the ingredients into the bowl of a food processor and blitz or pulse to a grainy sauce-like consistency. Season with salt and pepper and add more oil if too thick. Store in a sterilised airtight jar in the fridge for up to one week.
To serve, ladle the soup into bowls, add the reserved potatoes and monk's beard and a dollop of the Fresh Herb Pesto. Finally, sprinkle a few wild garlic flowers over the top, if you have them.
Print Recipe
Did you make this recipe?
Share your creations by tagging @livegreenandgood on Instagram with the hashtag #livegreenandgood