Spelt Flour Pancakes with Rhubarb and Cardamom
Serves: 6
Ready in: Under 15 Mins
Find this recipe and 5,000 more at [url=http://www.waitrose.com]http://www.waitrose.com[/url]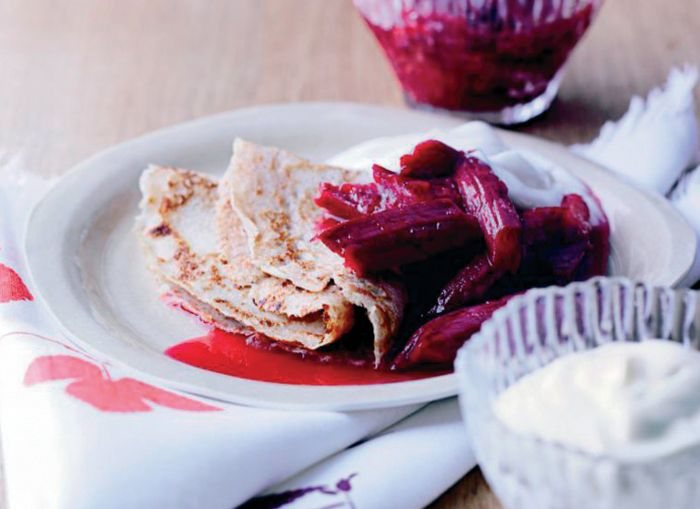 Ingredients:
125g Bacheldre Stoneground Spelt Flour
1 free-range egg
300ml semi-skimmed milk
400g rhubarb, cut into 3cm lengths
2 cardamom pods, lightly crushed
2 tbsp golden caster sugar
50g butter, melted
method:
Sift the flour and a pinch of salt into a large bowl and make a well in the centre. Crack the egg into the well and whisk the mixture together, incorporating all the flour into the egg. Gradually add the milk, whisking until you have a smooth batter. Cover and set aside. Place the rhubarb in a small pan with the cardamom pods, sugar and 50ml cold water. Heat gently, stirring occasionally, to dissolve the sugar, then simmer for 4-5 minutes, until the rhubarb is tender. Remove from the heat, discard the cardamom pods and keep the rhubarb warm.
Heat a little of the butter in a 20cm crêpe pan or small non-stick frying pan. Add a small ladleful of the batter and swirl around to coat the base of the pan. Cook over a medium heat for 1-2 minutes or until the mixture has just set underneath, then flip over and cook for a further minute. Repeat with the remaining mixture to make six pancakes, keeping the cooked pancakes warm on a covered plate. Fold the pancakes into quarters and spoon the rhubarb mixture over. Serve with a dollop of fromage frais.
Print Recipe
www.waitrose.com
Did you make this recipe?
Share your creations by tagging @livegreenandgood on Instagram with the hashtag #livegreenandgood