Som Tam (Green Papaya Salad)
Serves: 3
Ready in: Under 15 Mins
Eco Friendly Quick Make Vegan Friendly
Know your nutrients
Sophie says: "This is one of my favourite Thai dishes, incredibly fresh and vivid, especially when the sun is beating down. Choose the hardest, greenest papaya you can find, so that you can grate it easily. If you can't find unripe papaya, replace with finely shredded white cabbage."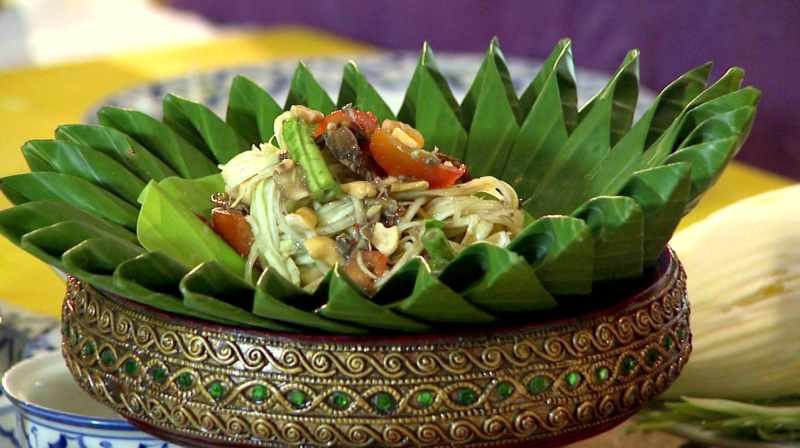 Ingredients:
½ green unripe papaya, peeled, deseeded and coarsely grated
2 cloves garlic, roughly chopped
2 bird's eye chillis, or 1 serrano chilli, deseeded and roughly chopped
1 tablespoon Palm sugar or light muscovado sugar
200g yardlong beans, cut into 3 cm lengths, or green beans, topped and tailed, then halved
2 tomatoes, deseeded and cut into strips
30g roasted peanuts, crushed
juice of 1 ½ - 2 limes
3 tbsp dark soy sauce
a small handful of coriander leaves
method:
Set the papaya aside for a few minutes whilst you pound the seasonings. Put the garlic, chillis, and the palm sugar into a mortar and pound to a paste.
Add the beans and pound again for a few minutes. Tip in the papaya, the tomatoes and the peanuts, and bash away just long enough to soften the papaya.
Mix in the lime juice and dark soy sauce, taste and adjust seasonings. Serve scattered with coriander leaves.
Print Recipe
www.travelchannel.co.uk
Did you make this recipe?
Share your creations by tagging @livegreenandgood on Instagram with the hashtag #livegreenandgood