Shallot, Cucumber and Tomato Panzanella
Serves: 4
Ready in: 30 to 60 mins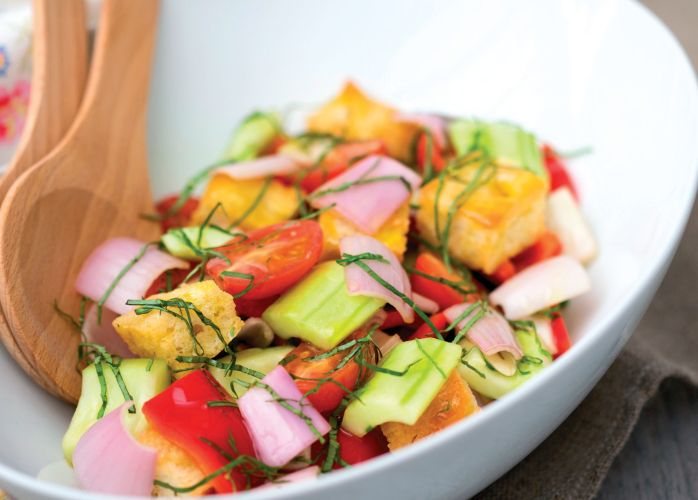 Ingredients:
1/2 cucumber
2 Romano peppers
12 cherry tomatoes
6 Echalion shallots
2 slices ciabatta/focaccia
2 garlic cloves, peeled
2 tbsp red wine vinegar
100ml extra virgin olive oil
8 basil leaves
method:
First, preheat your oven to 200C/400F/Gas 6.
Peel the cucumber, cut in half and remove the seeds with a teaspoon. Cut into bite-sized chunks, about 1cm squared. Cut the peppers into similar sized chunks and slice the cherry tomatoes in half.
Cut the shallots in half lengthways, remove the skins and then cut into bite-sized chunks similar in size to the cucumber and peppers.
Cut the bread into bite-sized pieces and place on a baking tray. Drizzle over a little olive oil and season with salt and pepper. Bake for 5-7 minutes until just toasted.
Slice the peeled garlic very thinly, place into a bowl and along with the vinegar and oil.
Transfer all the ingredients into a mixing bowl and mix together well. Check the seasoning and adjust if necessary. Add some finely shredded basil and serve.
Print Recipe
www.ukshallot.com
Did you make this recipe?
Share your creations by tagging @livegreenandgood on Instagram with the hashtag #livegreenandgood