Roasted Cherry Tomato Risotto
Serves: 4
Ready in: 30 to 60 mins
This recipe is like risotto perfection: creamy Arborio rice, a hint of garlic and sweet, roasted cherry tomatoes. What's more, it requires minimal ingredients, and is ready in just 30 minutes. Serve in warmed bowls. Recipe extracted from 5 Ingredient Vegan by Katy Beskow (Quadrille, Hardback & EBook) Photography: Luke Albert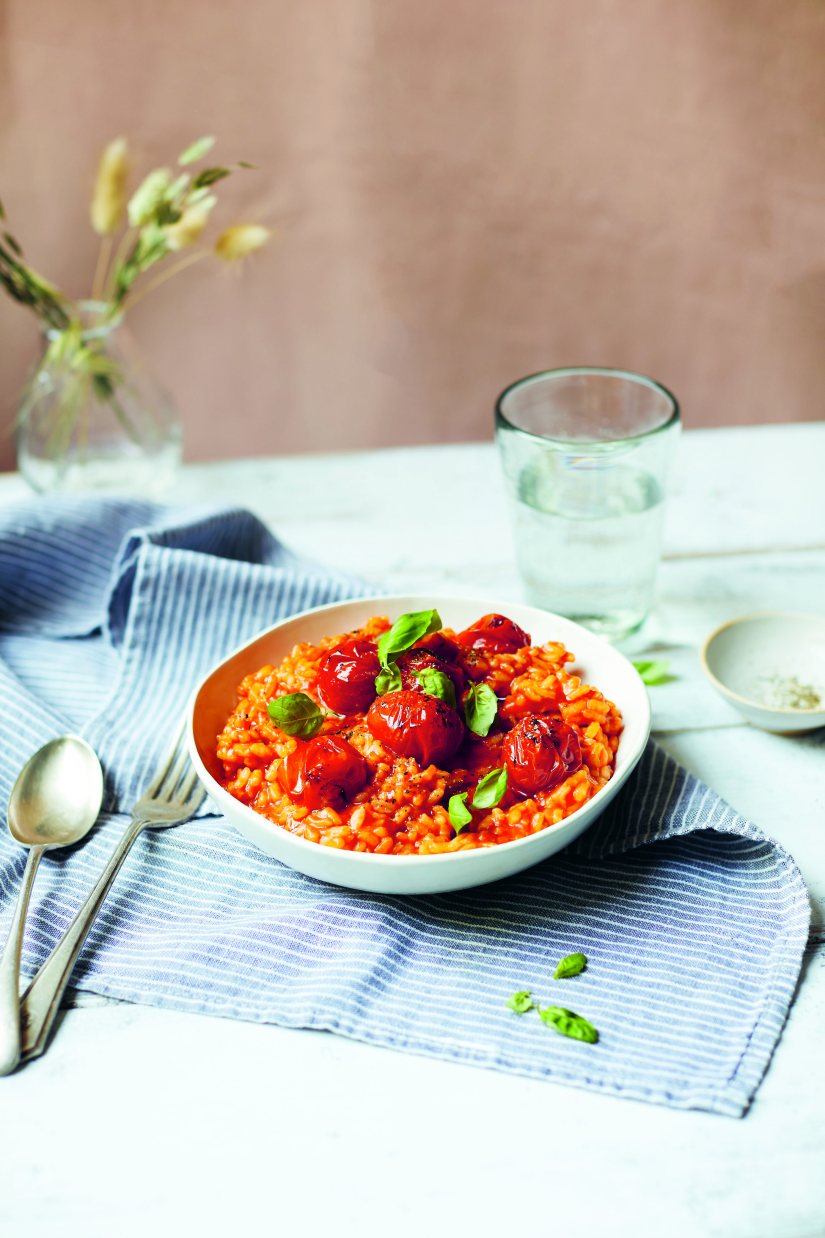 Ingredients:
300g cherry tomatoes
2 tbsp sunflower oil
2 garlic cloves, crushed
250g Arborio risotto rice
500g passata
800ml hot vegetable stock
generous pinch of sea salt
and black pepper
method:
Preheat the oven to 180C/350F/Gas 4. Arrange the cherry tomatoes on a baking tray and drizzle with a tablespoon of the oil. Roast in the oven for 20–25 minutes.
Meanwhile, prepare the risotto. Heat the remaining oil in a large pan, add the garlic and cook over a medium heat for 1 minute until the garlic has softened and infused the oil. Pour in the rice and cook for a further minute until the edges of the rice have become transparent.
Pour the passata into a large bowl or jug and mix in the vegetable stock until combined. Ladle or pour a quarter of the passata–stock liquid into the pan, stirring frequently.
Allow the rice to swell and cook, then add in another quarter of the liquid. Continue until all of the liquid has been used and absorbed; this should take 25–30 minutes. Remove from the heat.
Remove the roasted cherry tomatoes from the oven, then stir them through the risotto. Season with sea salt and plenty of black pepper to taste. Serve hot. Scatter over some basil leaves if you have them available, for added flavour and fragrance.
Print Recipe
www.hardiegrant.com/uk/quadrille
Did you make this recipe?
Share your creations by tagging @livegreenandgood on Instagram with the hashtag #livegreenandgood