Roasted Butternut Squash and Feta Rice Salad with Soy and Sesame Oil Dressing
Serves: 4
Ready in: 60 mins +
This spicy and fresh tasting salad is really filling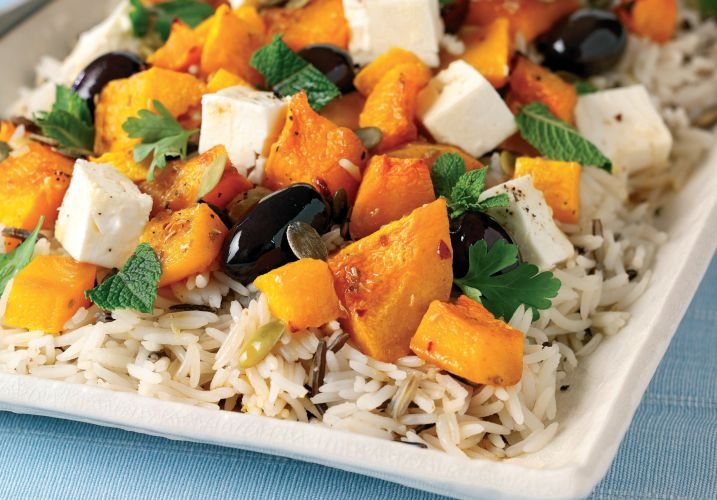 Ingredients:
1 small butternut squash, deseeded and chopped

2 tbsp sunflower oil

a pinch of chilli flakes

1 tsp coriander seeds

1 tbsp Kikkoman Soy Sauce

100g vegetarian feta

25g pumpkin seeds, toasted

200g basmati and wild rice

50g Kalamata olives

small handful of herbs, chopped


For the dressing:

1 tbsp toasted sesame oil

1 tbsp Kikkoman Soy Sauce
method:
Preheat the oven to 220C/425F/Gas 7. Put the butternut squash in a roasting tin and pour over the oil. Toss well and roast the squash for 45 minutes.
Meanwhile, cook the basmati and wild rice according to their individual packet instructions. Drain, rinse with cold water and drain again until the water runs clear.
Grind the chilli flakes and coriander seeds together to a fine powder in a pestle and mortar. Sprinkle over the cooked squash along with the soy sauce. Toss and continue to roast for a further five minutes. Dice the feta.
Spoon the rice into a bowl and fluff up with a fork. Add the squash, feta, seeds and olives.
Whisk together the ingredients for the dressing. Pour over the rice and squash salad then scatter with the chopped herbs. Serve immediately, while warm.
Print Recipe
www.kikkoman.co.uk
Did you make this recipe?
Share your creations by tagging @livegreenandgood on Instagram with the hashtag #livegreenandgood