Roast Shallot and Broad Bean Couscous
Serves: 4
Ready in: 30 to 60 mins
Combining flavoursome ingredients with couscous, like the roasted shallots, feta and smoked paprika in this recipe, helps add interest to what can be quite a plain grain. If you haven't tried smoked paprika you are missing out! Its gorgeous spicy flavour is perfect in stews and bakes…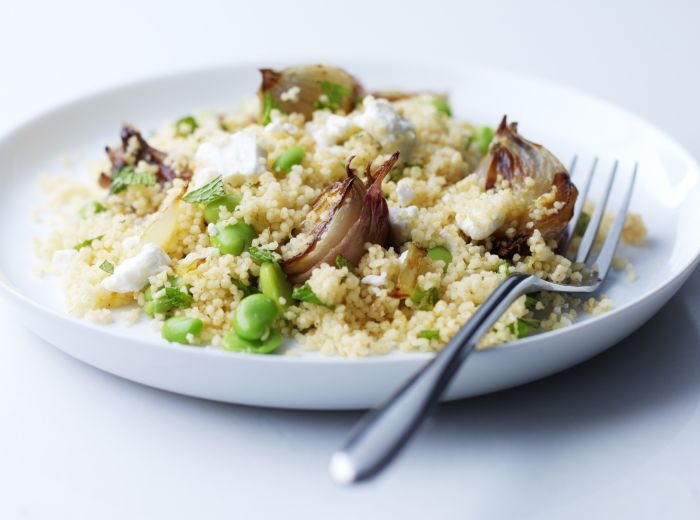 Ingredients:
8 shallots, peeled and halved
1 tbsp olive oil
1/2 tsp smoked paprika
200g couscous
300ml vegetable stock
200g broad beans
grated rind and juice of 1 small lemon
150g vegetarian feta cheese, crumbled (optional)
handful chopped fresh mint
salt and freshly ground black pepper
method:
Preheat the oven to 190C/340F/Gas 5. Place the shallots in a small roasting tin and drizzle with the oil. Season with salt and pepper and roast for 10-15 minutes, until golden.
Place the couscous in a bowl and stir in the paprika. Pour over the stock and cover with cling film. Set aside for 10-15 minutes. Cook the broad beans in boiling salted water for 2-3 minutes, until tender. Drain and refresh under cold running water. Slip the beans out of their grey skins.
Fluff up the couscous and stir in the beans, lemon rind and juice, mint, shallots and the veggie feta if using.
Print Recipe
www.ukshallot.com
Did you make this recipe?
Share your creations by tagging @livegreenandgood on Instagram with the hashtag #livegreenandgood