Red Berry Meringue Roulade
Serves: 8
Ready in: 60 mins +
Add extra oomph to this already impressive dessert by finishing it off with indoor mini sparklers or candles for a special celebration!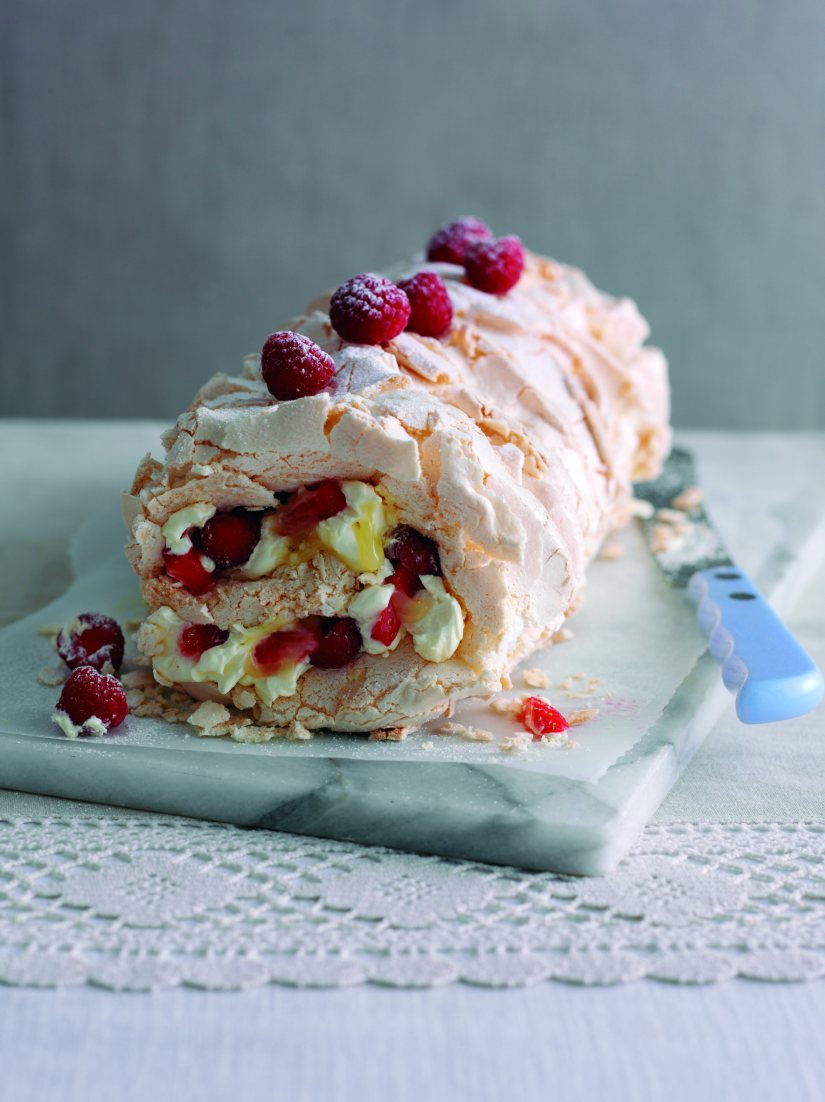 Ingredients:
For the roulade:
4 large free-range egg whites
250g caster sugar, plus a little extra for sprinkling
1 tsp cornflour
1 tsp white wine vinegar

For the filling:
300ml double cream
4 tbsp lemon curd
150g raspberries
225g strawberries, sliced
method:
Preheat the oven to 190C/375F/Gas 5. Line a 33cm x 23cm Swiss roll tin or roasting tin with a large rectangle of non-stick baking paper, snipping diagonally into the corners of the paper, then pressing into the tin so that the base and sides are lined.
Whisk the egg whites in a large bowl until stiff peaks form, and the bowl can be tipped upside-down without the egg whites moving in the bowl. Gradually whisk in the sugar a teaspoonful at a time, then continue to whisk for a minute or two until thick. In a separate bowl, whisk the cornflour and vinegar together, then fold this into the meringue.
Spoon the meringue into the lined tin, easing gently into an even layer. Bake for 10 minutes until well-risen and just beginning to colour, then reduce the heat to 160C/325F/Gas 3, and cook for five more minutes, or until the meringue is just firm to the touch and is beginning to crack.
Put a tea towel on your work surface, cover with a sheet of non-stick baking paper and sprinkle with a little extra sugar. Carefully invert the hot meringue on to the paper, remove the tin and leave to cool for 1-2 hours.
To finish, peel off the lining paper from the meringue. Whip the cream until it forms soft swirls then spoon over the meringue. Spoon the lemon curd on top, then sprinkle with the red berries. Roll the meringue, starting with one of the narrowest edges, using the paper and tea towel to help. Carefully transfer the roulade to a serving plate, and remove the paper and tea towel. Serve cut into thick slices with extra berries, if desired.
Print Recipe
www.lovefreshberries.co.uk/home
Did you make this recipe?
Share your creations by tagging @livegreenandgood on Instagram with the hashtag #livegreenandgood