Quick Bramley and Rhubarb Trifle
Serves: 6
Ready in: 15 to 30 mins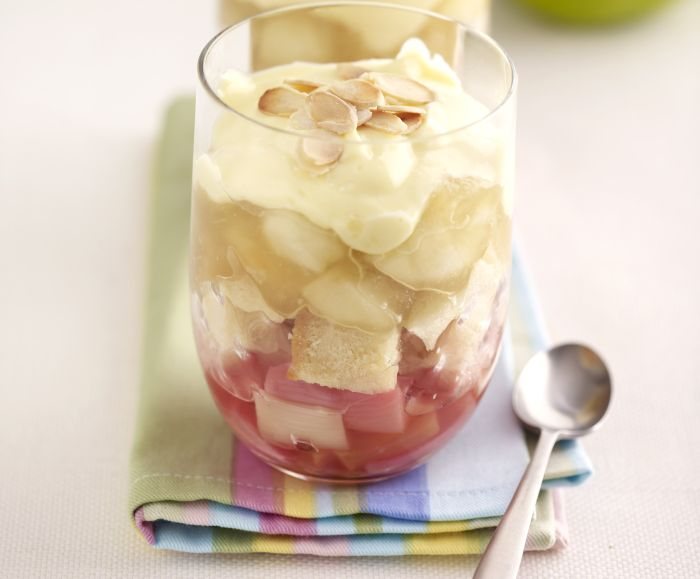 Ingredients:
2 small Bramley apples, peeled, cored and chopped into 1cm pieces
4 tbsp light soft brown sugar
finely grated zest and juice of 1 lemon
400g rhubarb, chopped into 2.5cm pieces
1 large ball stem ginger, chopped
2 tbsp stem ginger syrup
1/2 a vegetarian Madeira cake (around 160g), chopped
300ml ready-made vanilla custard
75g Greek yoghurt
25g flaked almonds, toasted
method:
Put the apples, 3 tbsp of the sugar, plus the lemon zest and juice in a pan. Bring to the boil and simmer gently for around 10-15 minutes until soft and pulpy.
Put the rhubarb in a separate pan with the stem ginger, stem ginger syrup, 2 tbsp water and remaining 1 tbsp sugar. Cover and simmer for about 5 minutes.
Divide the poached rhubarb equally among six glasses. Do the same with the cake. Top with the Bramley sauce.
Mix together the custard and yoghurt in a bowl and divide equally among each glass. Sprinkle over the flaked almonds and tuck in!
Print Recipe
www.bramleyapples.co.uk
Did you make this recipe?
Share your creations by tagging @livegreenandgood on Instagram with the hashtag #livegreenandgood