Purple Sprouting Broccoli with Butter Beans, Pine Nuts, Chilli and Lemon
Serves: 4
Cost Cutting Eco Friendly Gluten Free‏ Quick Make Vegan Friendly
This delicious recipe manages to take broccoli to new heights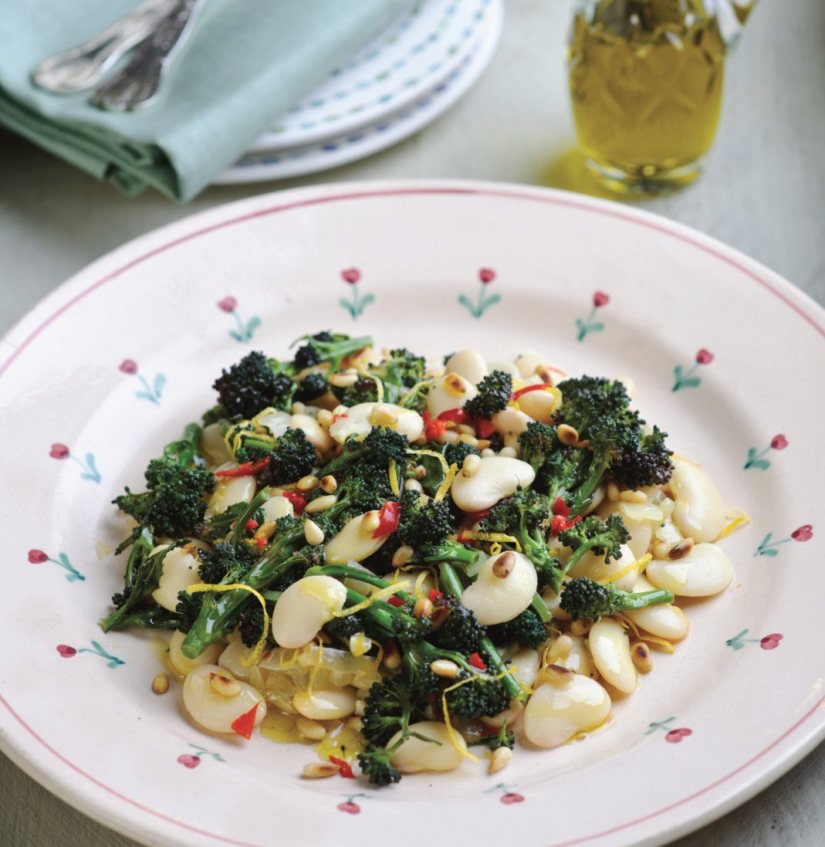 Ingredients:
400g purple sprouting broccoli
100g pine nuts, toasted
2 tbsp olive oil for pan frying
2 shallots, peeled and finely chopped
2 garlic cloves, peeled and finely chopped
1/2 red chilli, de-seeded and finely chopped
sea salt and pepper
400g cooked butter beans, drained and rinsed
1 unwaxed lemon, the zest removed and the juice squeezed
method:
Wash and trim the purple sprouting broccoli, discarding any tough parts to the stalks and cutting them into 2cm pieces. Heat a saucepan of water on the stove, and when the water is boiling, blanch the purple sprouting broccoli for no more than three minutes. Drain, and leave to cool on a preparation tray.
Toast the pine nuts in a dry, non-stick frying pan. Be very careful not to burn them. The secret is to keep shaking the pan so they do not stick to the bottom and burn.
Take a heavy saucepan and heat the oil. Add the finely chopped shallot, garlic and red chilli, along with a pinch of sea salt and some freshly grated black pepper. Soften the vegetables quite gently, adding a small amount of water to help create steam in the pan.
When the vegetables in the pan are soft, add the butter beans, the lemon zest, a little of the lemon juice and the toasted pine nuts. Mix well and fry for three minutes. Add the blanched purple sprouting broccoli, mix well, and turn off the heat.
Print Recipe
www.loveyourgreens.co.uk
Did you make this recipe?
Share your creations by tagging @livegreenandgood on Instagram with the hashtag #livegreenandgood