Purple Sprouting Broccoli, Mozzarella and Tomato Bake
Serves: 2
Ready in: 30 to 60 mins
This simple bake makes a gorgeous lunch with a simple dressed green salad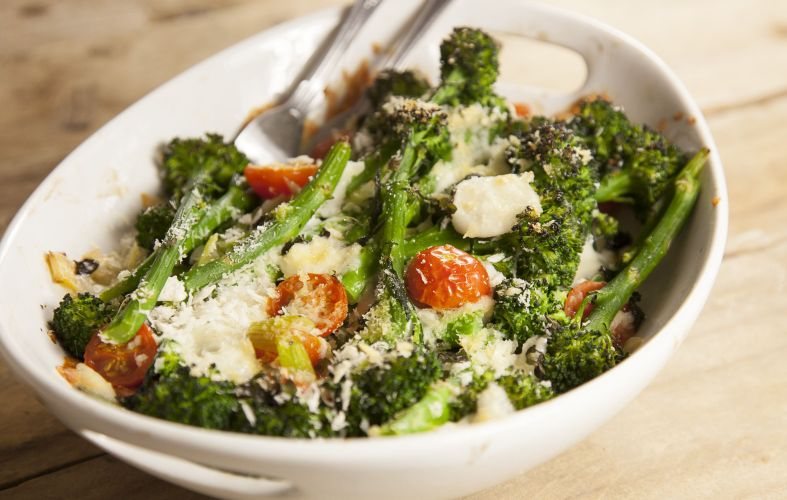 Ingredients:
2 tbsp olive oil
1 small leek, sliced
350-400g purple sprouting broccoli
200g cherry tomatoes, halved
200g veggie mozzarella, roughly torn
2 garlic cloves, finely chopped
1 tbsp fresh or dried marjoram or oregano leaves
sea salt and ground black pepper
2 tbsp breadcrumbs
extra virgin olive oil, for drizzling
method:
Heat the oil in a frying pan. Add the leek and cook gently for eight minutes to soften.
Steam or boil the broccoli for two minutes. Drain and refresh in a bowl of cold water. Drain again.
Preheat the oven to 190C/375F/Gas 5. Toss the broccoli in a shallow baking dish with the leeks, tomatoes, mozzarella, garlic and herbs. Season with salt and pepper. Scatter over the breadcrumbs. Bake for 20-25 mins, until the cheese has melted. Drizzle over a little olive oil to serve.
Print Recipe
www.riverford.co.uk
Did you make this recipe?
Share your creations by tagging @livegreenandgood on Instagram with the hashtag #livegreenandgood