Pomegrante and Beetroot Ripple Ice Cream
Serves: 12
Cost Cutting Eco Friendly Gluten Free‏
This will impress the guests and stop them quibbling about the fact that you haven't made a seasonal display out of pine cones and spun sugar. In fact, it will stop them in their tracks when you appear with a tray of shot glasses of the palest pink ice cream, ribboned through with a dark crimson thread of sweet beetroot purée.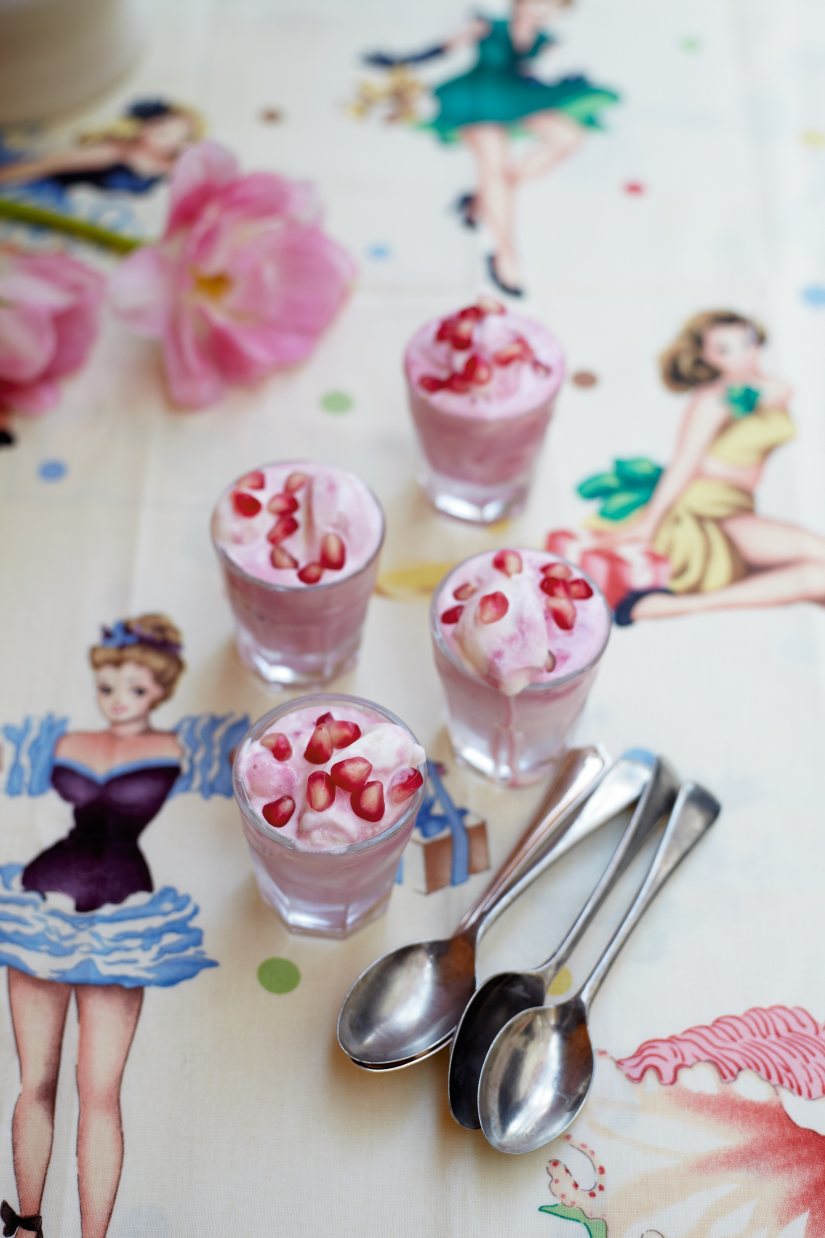 Ingredients:
3 medium beetroot
175g icing sugar, plus more for the purée, if needed
3 large pomegranates
the juice and zest of 1 lime
1 tbsp vanilla extract (or rose water)
500ml double cream
method:
Roast the beetroot on a baking tray, skin on, in a fairly hot oven (200C (180C fan)/400F/Gas 6) until soft, roughly
30-45 minutes. Allow to cool before peeling.
Purée the peeled beetroot in a blender, adding a little icing sugar if you feel it needs it (a tablespoonful or so should be enough).
Cut the pomegranates in half across the middle. Cover and store one half in the fridge until you come to serve, as you'll be using the seeds to decorate.
Juice the other halves with a citrus juicer. Boil the juice in a small saucepan until reduced by half (to approximately 150ml) – it should have thickened slightly and become syrupy. Pour in to a large bowl and set aside to cool.
Stir the lime juice and zest, vanilla and icing sugar in to the cooled juice until the sugar dissolves. Add the cream and whip until it just begins to make soft peaks.
Carefully spoon the mixture in to a plastic airtight container and gently fold the beetroot purée through to form ripples. Place in the freezer for 4-5 hours or, ideally, overnight.
To serve, scoop the ice cream in to shot glasses using a teaspoon, sprinkle each serving with a few pomegranate seeds and deliver to your guests, accepting compliments with grace.
Print Recipe
www.bills-website.co.uk
Did you make this recipe?
Share your creations by tagging @livegreenandgood on Instagram with the hashtag #livegreenandgood