Oven-baked Mushroom Risotto
Serves: 4
Ready in: 60 mins +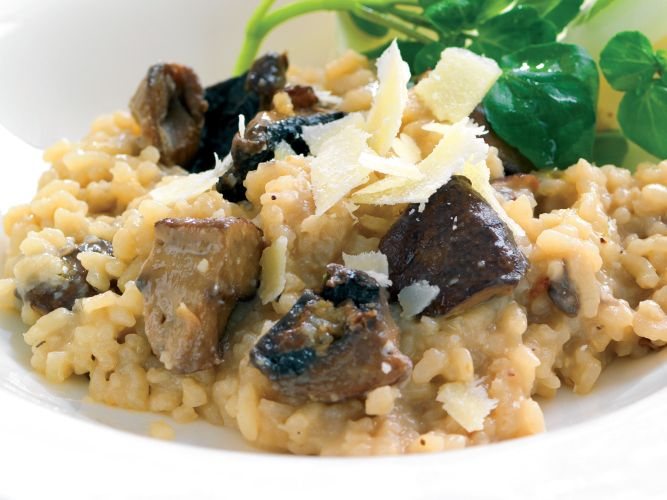 Ingredients:
10g dried porcini mushrooms
1.2 lt boiling water
1 tsp Marigold vegetable bouillon
1 onion, chopped
2 celery sticks, finely chopped
2 garlic cloves, chopped
2 tbsp olive oil
275g chestnut mushrooms, sliced
350g risotto rice
100ml vegetarian sherry

[hd]To serve[/hd]
chopped parsley
flaked or finely grated vegetarian Parmesan-style cheese, optional
method:
Heat the oven to 200C(Fan 180C)/400F/Gas 6. Place a large casserole dish (or roasting tin) for cooking the risotto in the oven.
Put the porcini mushrooms into a saucepan with the boiling water and vegetable bouillon powder. Set aside for 30 minutes.
Fry the onion and celery in a large saucepan for five minutes. Stir in the garlic and mushrooms. Cook, uncovered, for 15-20 minutes, until the mushrooms have absorbed any liquid.
Add the rice, stir for 1-2 minutes, then pour in the sherry. With a slotted spoon remove the dried mushrooms from the bouillon mixture, chop roughly and add, along with 1 tsp salt and black pepper. Bring the bouillon to the boil.
Put the rice mixture into your heated casserole, then pour in the boiling bouillon. Stir quickly, then bake, uncovered, for 20-25 minutes until the rice is tender.
Stir very well, check the seasoning, scatter with parsley and serve, with cheese, if liked.
Print Recipe
www.roseelliot.co.uk
Did you make this recipe?
Share your creations by tagging @livegreenandgood on Instagram with the hashtag #livegreenandgood