Mushroom, Spinach and Walnut Lasagne
Serves: 4
Ready in: 60 mins +
Know your nutrients
If you can't get fresh porcini mushrooms, you can soak the dried variety in water (following pack instructions) drain well and use as above. Alternatively, use 300g chestnut mushrooms in total, or substitute your choice of alternative fungi.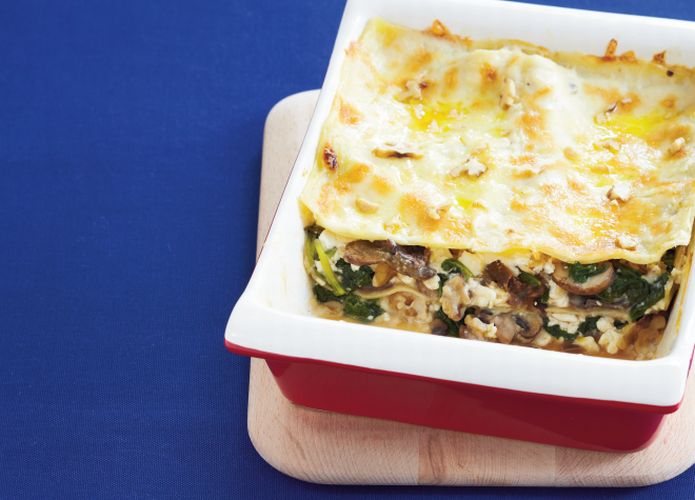 Ingredients:
50g butter
50g flour
2 tbsp olive oil
1 garlic clove
2 sprigs thyme
30g walnuts, chopped
300g lasagne sheets
500ml milk
150g chestnut mushrooms, sliced
150g porcini mushrooms, sliced (see Tip)
300g spinach, wilted
300g cottage cheese
30g vegetarian Cheddar
30g grated veggie Parmesan-style cheese
a little nutmeg
salt and pepper
method:
Preheat the oven to 200C/400F/Gas 6. Heat the olive oil in a frying pan until it reaches near smoking point, then turn the heat down a little and add in the mushrooms along with the thyme. After two minutes add in the garlic and cook for a further two minutes.
Now make a white sauce: melt the butter in a small pan, then stir in the flour to form a roux. Cook for a further 30 seconds before gradually incorporating the milk, whisking continuously to avoid any lumps. Grate in the nutmeg and season to taste.
Add a thin layer of the white sauce to the bottom of a baking dish, followed by a layer of lasagne sheets. Top with another layer of white sauce followed by 1/3 of the mushrooms, walnuts and spinach, scattered with 1/3 of the cottage cheese. Repeat for a further two layers, finishing with a layer of white sauce. Scatter the top with the Cheddar and Parmesan-style cheese to finish.
Bake the lasagne in the oven for 25-30 minutes until golden brown and bubbling on top.
Print Recipe
www.charlottetolhurst.co.uk
Did you make this recipe?
Share your creations by tagging @livegreenandgood on Instagram with the hashtag #livegreenandgood