Mushroom, Lentil and Red Wine Wellington
Serves: 4
Ready in: 60 mins +
An ideal veggie centrepiece to your Christmas feast, this wellington is simple and quick to make. You can even prepare all of the elements the day before, giving them time to cool before you wrap and bake it on Christmas morning. It's easily made vegan by using vegan pastry and brushing the top with a little oil in place of the egg.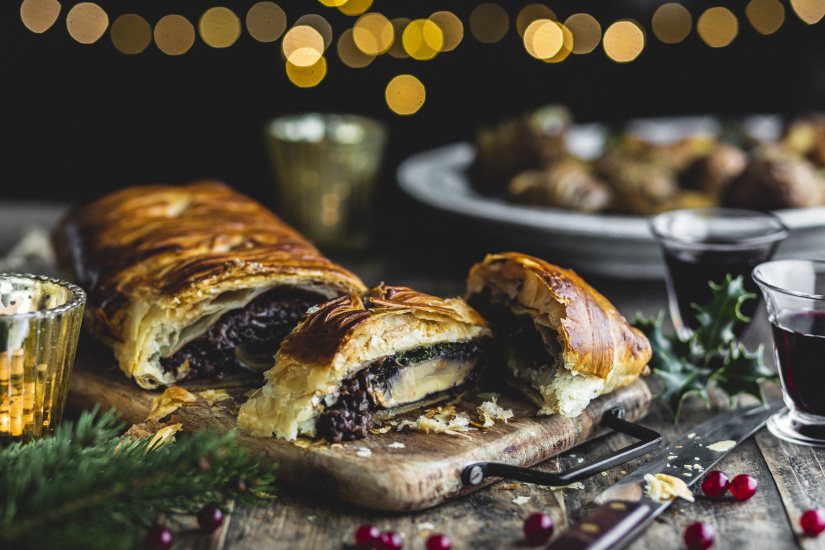 Ingredients:
4 large Portobello mushrooms
1 onion, finely diced
1 carrot, finely diced
1 celery stick, finely diced
1 tin dark/puy lentils, cooked
2 garlic cloves, finely chopped
1 large sprig of rosemary, finely chopped
1 tbsp soy sauce
100ml red wine
300g puff pastry
150g baby spinach
1 free-range egg, beaten
method:
Preheat your oven to 200C/400F/Gas 6. Toss the mushrooms in a roasting tray with two tablespoons of oil and a generous seasoning of salt and pepper. Bake for 20 minutes. Remove from the tray and place in the fridge to cool quickly. Clean the tray.
While the mushrooms roast, warm one tablespoon of oil in a saucepan and cook the onion, carrot and celery over a medium heat for 10 mins, until starting to soften.
Meanwhile, drain and rinse the lentils in a sieve.
Add the garlic, rosemary, lentils, soy sauce and red wine to the veg, along with 100ml of water. Cook over a medium heat for 10 mins, until most of the liquid has disappeared and the lentils have become mushy. Remove from the heat and season with salt and pepper to taste. Pop into the fridge to cool.
Roll out the pastry into a rectangle about 3mm thin, roughly the size of an A4 sheet of paper. Lay the pastry on the clean baking tray and return it to the fridge to stay cold.
Wash the spinach. Place it in saucepan over a high heat until just wilted; about 30 seconds. Cool immediately under cold water. Drain the spinach, squeeze out any excess water, and roughly chop it.
To build the Wellington, spread the cooled lentil mix evenly over the pastry, leaving a 2cm gap along one long edge. Place the mushrooms, stems up, in a line down the centre and pack them with chopped spinach. Brush the exposed pastry edge with a little water. Gently lift it up and over to completely encase the mushrooms, pressing the damp edge down to seal the Wellington. Crimp the open ends closed. Brush the pastry with a little beaten egg (or oil, if vegan) and lightly score the top with a sharp knife. Cut two or three vent holes in the top to let the steam escape. Transfer the Wellington to the oven and bake for 20-25 minutes, until golden-brown and cooked through.
Print Recipe
www.riverford.co.uk/
Did you make this recipe?
Share your creations by tagging @livegreenandgood on Instagram with the hashtag #livegreenandgood