Meat-Free Spiced Festive Wreath
Serves: 4
Ready in: 30 to 60 mins
This veggie main will make a super centrepiece for your Christmas dinner!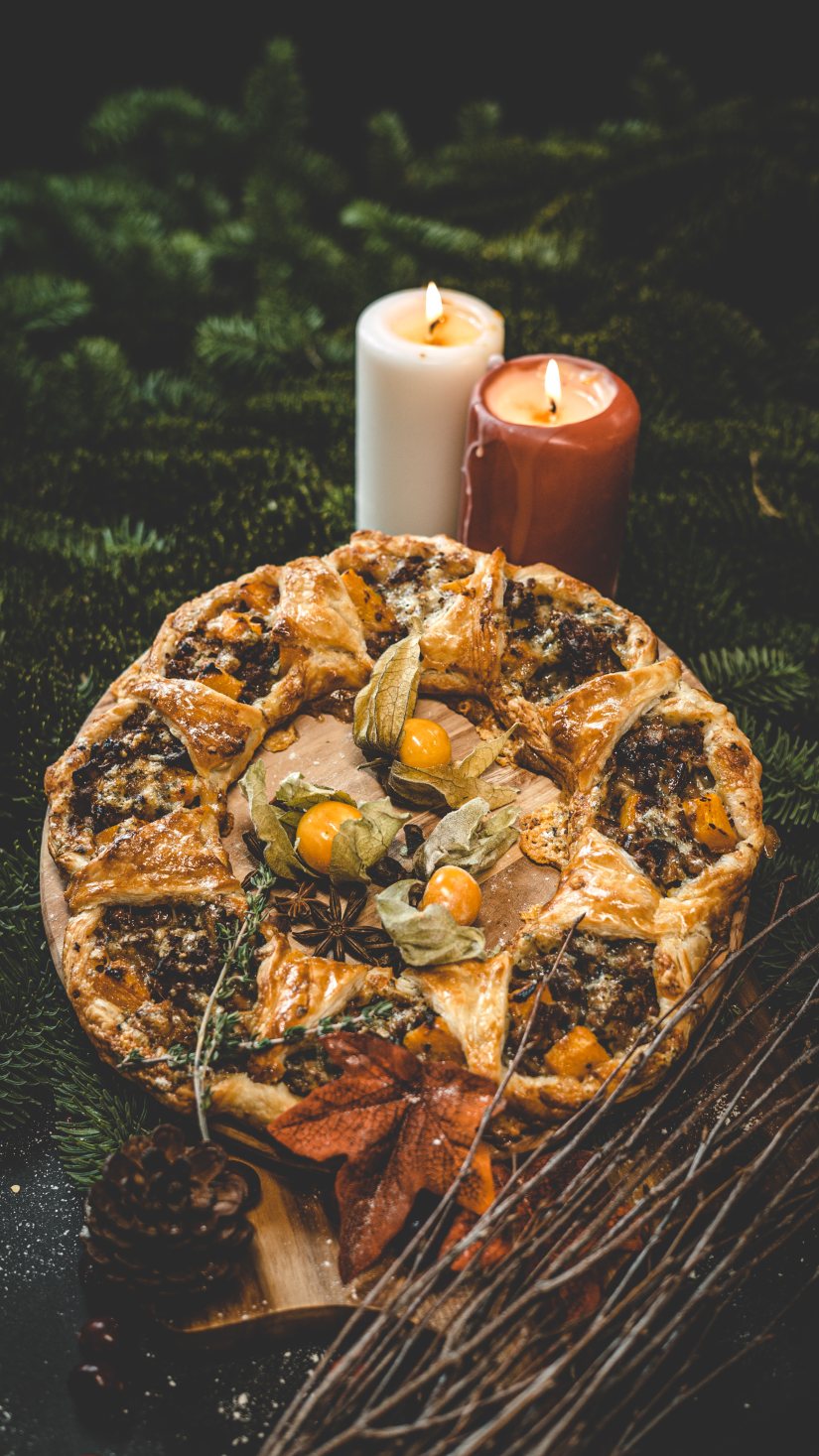 Ingredients:
½ pack Meatless Farm meat-free mince
½ butternut squash, finely diced into 1cm cubes
1 pack chestnut mushrooms, roughly chopped
1 sheet ready-rolled puff pastry
1 red onion, chopped
2 garlic cloves, minced
1 bay leaf
1 cinnamon stick
½ tsp nutmeg
½ tsp chilli powder
¼ tsp ground clove
1 egg, beaten for glazing, or vegan alternative
150g Stilton, crumbled, or vegan alternative
1 tbsp vegetable oil
method:
In a frying pan, heat the vegetable oil over a medium heat. Add the bay leaf, cinnamon stick, clove and nutmeg, stir for 30 seconds, then add the chopped mushrooms, onion and garlic. Fry until soft and then set aside.
On a baking tray, lightly brush the butternut squash with vegetable oil, then sprinkle over the chilli powder. Add a bay leaf and cinnamon stick and roast in the oven at 180C/350F/Gas 4 until the squash is soft and caramelised; about 20 mins.
In a large mixing bowl, mix the mince with the onion and mushroom mixture. Add the butternut squash (remembering to remove the whole cinnamon sticks and bay leaves). Gently combine the ingredients until well-mixed.
Take your sheet of ready-rolled puff pastry and place it on a piece of grease-proof paper. Place an up-turned plate on top. (The plate should be as big as the narrowest dimension of the pastry). Cut around the plate with a knife and discard the off-cuts. Remove the plate. Using an upturned glass, gently press into the centre of the circle, taking care not to go all the way through. Using a sharp knife, cut from the middle to the edge of the inner circle. You should make four cuts to give you eight segments.
Layer your mixture around the outer ring, leaving about 1cm to the outer edge. Top the mince mixture with crumbled Stilton.
On the underside of the 1cm outer edge, brush on the beaten egg around the full circle – this will help the pastry stick to each other in the next step.
Carefully lift one of the segments of the inner circle up and over the filling, while also bringing the outer edge to meet. Gently press the two pieces of pastry together to create a wrapping over the filling. Repeat around the wreath with the other seven segments.
Place the wreath on its grease-proof paper on a baking tray and then into a pre-heated oven at 180C/350F/Gas 4 for about 30 minutes, until golden-brown, checking on it occasionally.
Print Recipe
meatlessfarm.com/
Did you make this recipe?
Share your creations by tagging @livegreenandgood on Instagram with the hashtag #livegreenandgood