Lasagne with Mushrooms and French Goat's Cheese
Serves: 6
Ready in: 30 to 60 mins
Know your nutrients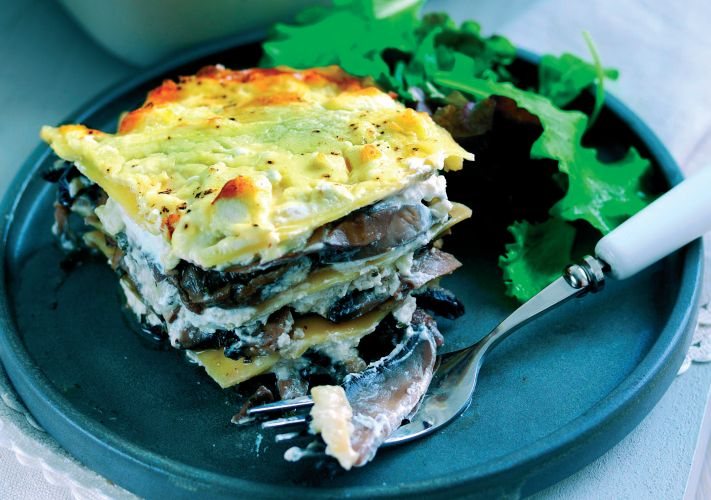 Ingredients:
200g mild ripe vegetarian French goat's cheese log, crumbled or sliced
20g dried porcini mushrooms
600g mixed Portobello and chestnut mushrooms
2 tbsp olive oil, plus extra for greasing
2 shallots, peeled and chopped
2 garlic cloves, finely chopped
2 sprigs of rosemary, finely chopped
sea salt and freshly ground black pepper
50ml vegetarian white wine
large handful of flat-leaf parsley, chopped
12 sheets of fresh lasagne pasta
For the topping:
200ml crème fraîche
2 large free-range egg yolks
100g mild ripe vegetarian French goat's cheese log, crumbled
method:
Soak the dried porcini mushrooms in a small bowl with enough boiling water to cover. Leave for 10-15 minutes until soft. Scoop out the mushrooms and squeeze out any excess water. Reserve the soaking liquid.
Peel the large mushrooms and slice them all into roughly the same size slices. Heat a large frying pan with the oil, and then add the shallots, garlic and rosemary. Sauté over a medium heat for 4-5 minutes until the shallots are soft. Switch on the oven to 180C/350F/Gas 4.
Add both the soaked and fresh mushrooms to the shallots and garlic with some salt and pepper. Sauté over a high heat for 2-3 minutes.
Add a splash of white wine and a little of the reserved soaking liquid from the porcini. Season with salt and pepper and add in the chopped parsley. Leave to cool.
To make the topping, beat the crème fraîche, egg yolk and crumbled French goat's cheese log together in a bowl with salt and pepper.
Lightly grease an ovenproof dish (20x30cm size is ideal) with olive oil. Cover the bottom of the dish with a layer of the mushroom mixture, followed by some of the goat's cheese log. Arrange a layer of lasagne sheets on top, then repeat the layering process twice more, keeping aside a little cheese for step 7 and finishing with a layer of lasagne.
Pour the crème fraîche topping over the lasagne, sprinkle with the remaining goat's cheese log. Bake for 30 minutes or until the topping is golden brown and bubbling. Leave the lasagne to stand for 5-10 minutes before serving with a salad of mixed green leaves.
Print Recipe
www.frenchgoatscheese.com
Did you make this recipe?
Share your creations by tagging @livegreenandgood on Instagram with the hashtag #livegreenandgood