Italian Crespelle
Serves: 8
Ready in: 30 to 60 mins
Know your nutrients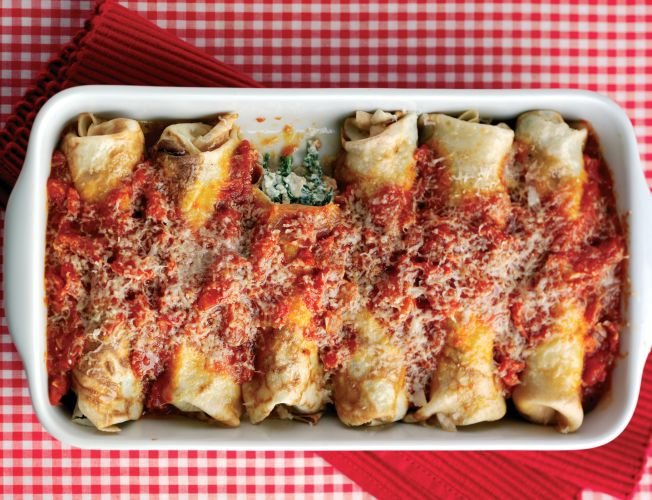 Ingredients:
75g plain flour
2 large free-range eggs
200ml milk
2 tbsp olive oil plus extra
1 onion, chopped
1 garlic clove, crushed
350g fresh leaf spinach
250g tub veggie ricotta
50g finely grated
vegetarian Parmesanstyle cheese
1/2 tsp grated nutmeg
345g tomato pasta sauce
method:
.Whisk flour, a pinch of salt and eggs with add half the milk. Add the remaining milk and whisk. Pour into a jug.
Heat a lightly oiled 20cm frying pan until hot. Pour in a little batter and tilt pan to spread it evenly. Cook for two mins then flip and cook for 1-2 mins. Make 7 more.
Sauté onion until soft, add garlic and spinach and squash down into the pan. Wilt.
Preheat oven to 200C/400F/Gas 6. Drain the spinach and mix in ricotta, half the hard cheese, nutmeg and plenty of salt and pepper.
Spoon filling down middle of each pancake. Fold the sides in, then roll up. Place seam side down in an ovenproof dish, top with the sauce and cheese and bake for 20 mins.
Print Recipe
www.eggrecipes.co.uk
Did you make this recipe?
Share your creations by tagging @livegreenandgood on Instagram with the hashtag #livegreenandgood