Hearty Flat Mushroom and Puy Lentil Cottage Pie
Serves: 4
Ready in: 60 mins +
Cost Cutting Eco Friendly Freezes Well
Perfect rib-sticking food ideal for a frosty day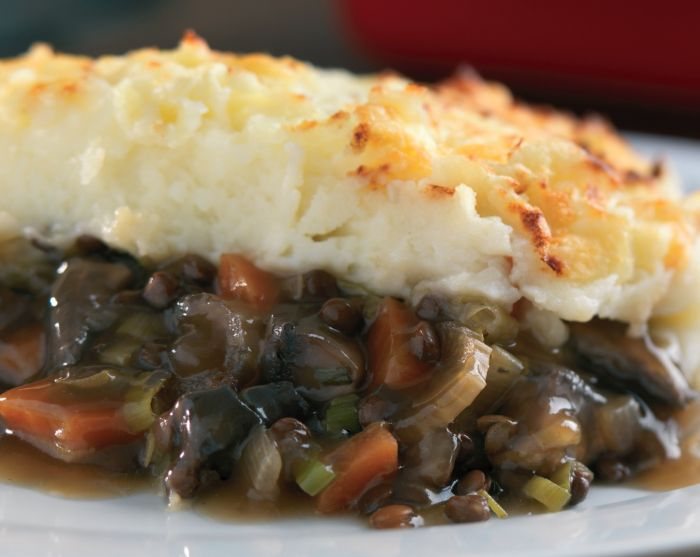 Ingredients:
6 large Maris Piper potatoes
knob of butter or margarine
splash of milk or cream
black pepper, white pepper and sea salt
½ carrot, diced
1 leek, sliced and washed
1 onion, diced
½ celery stick, diced
120g Puy lentils
1 ½-2 pt good quality vegetable stock
sprigs of fresh thyme and rosemary, finely chopped
2 bay leaves
8 large flat mushrooms, diced (or whichever mushrooms you prefer)
2 garlic cloves, crushed
1-2 tbsp soy sauce
50g vegetarian mature Cheddar (optional)
1 large tomato, sliced (optional)
method:
Peel and boil potatoes for the mash. Once soft, leave to drain for five minutes then mash together with butter, a splash of milk or cream, and season with salt and white pepper.
Sauté the onion until translucent, before adding all the remaining vegetables apart from mushrooms.
Once the vegetables start to soften, add the Puy lentils and sauté for a further 1-2 minutes, before adding the vegetable stock, soy sauce, fresh herbs and bay leaves.
Bring to a simmer, add the salt and black pepper to taste and simmer until the lentils are soft and fully cooked. Add more liquid if required.
Add the chopped mushrooms and cook for a further five minutes until the mushrooms are cooked. Taste and adjust the amounts of salt and pepper if necessary.
Layer the mixture in a large deep ovenproof dish. Aim for at least a two inch depth of mixture at the bottom, before layering the creamy potato over the top, aiming for at least one inch depth.
Garnish the cottage pie, by sprinkling with grated cheese and tomato slices (if using). Bake at 190C/375F/Gas 5 until bubbling and the top is golden and crispy. Serve with red or green sautéd cabbage.
Print Recipe
www.moretomushrooms.com
Did you make this recipe?
Share your creations by tagging @livegreenandgood on Instagram with the hashtag #livegreenandgood