Golden Tofu Singapore Noodles
Serves: 4
Ready in: 30 to 60 mins
This delicious noodle dish created by Ching-He Huan for Cauldron includes spiced golden tofu alongside an array of aromatic vegetables, balanced perfectly with the flavours of soy and chilli. In just five minutes' cooking time, you will be able to easily create a takeaway style dish straight from your home!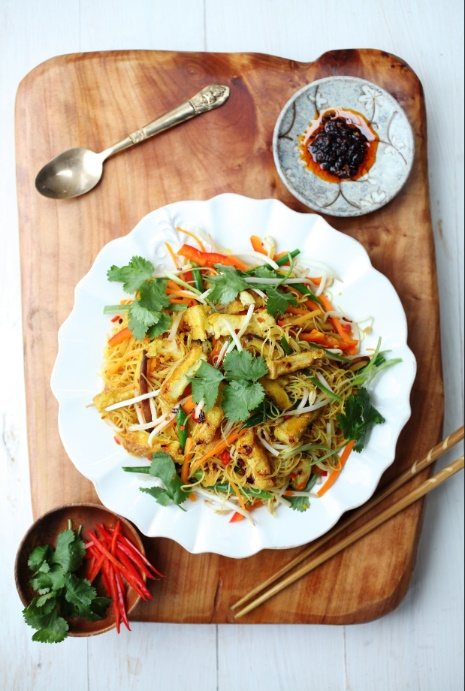 Ingredients:
For the tofu:
396g Cauldron Organic Tofu Block, sliced to 3cm x 1cm strips
2 pinches of sea salt
2 pinches ground white pepper
1 tsp turmeric
2 tbsp cornflour
200ml rapeseed oil
143g (3 bricks) vermicelli rice noodles, soaked in boiling water for 3 minutes, drained
For the sauce:
2 tbsp tamari or low sodium light soy sauce
1 tsp dark soy sauce
2 tbsp sweet chilli sauce
1 tbsp sushi vinegar or rice vinegar
For the stir fry:
2 tbsp rapeseed oil
1-inch knob root ginger, peeled and freshly grated
1 red medium chilli, deseeded and finely chopped
8 (125g) fresh shiitake mushrooms, rinsed and sliced
1/2 tsp ground turmeric
100g fine French beans, washed, trimmed, and sliced 1 inch on a deep angle
1 tbsp Shaohsing rice wine or veg stock
1 (158g) red pepper, deseeded and sliced
2 (120g) medium carrot, washed, top tailed, sliced to matchsticks
200g beansprouts, washed
3 medium spring onions, washed, top, tailed, sliced to julienne
1 tsp toasted sesame oil
1 tbsp tamari or low sodium light soy sauce (optional)
½–1 tsp crushed dried chilli
To garnish:
1 tbsp Chiu Chow Chilli Oil or your favourite chill oil
1 red chilli, deseeded, slighted to fine strips
fresh coriander leaves
method:
Take the tofu out of the pack, drain away the water bath and press to firm. Leave the tofu to press for 10-20 minutes.
Meanwhile, prepare the vegetables and make the sauce by combining all the sauce ingredients in a jug.
Return to your tofu and slice into equal 1cm x 3cm strips. Season with sea salt and freshly ground white pepper. In a small bowl, mix the turmeric with the cornflour and dust it generously all over the tofu.
Pour 200ml of rapeseed oil in a shallow pan, heat to 180 degrees (or until a cube of bread turns golden brown in 15 seconds). Gently add the tofu pieces in. If your pan is large enough you can add it all in and shallow fry for 3-4 minutes, until golden and crispy. Carefully remove and drain on kitchen paper. Some pieces may stick together but don't worry.
Place the noodles in boiled water and soak them for 3 minutes, until the water turns opaque white. Drain and rinse the noodles well.
Heat a wok over med-high heat until slightly smoking. Add the rapeseed oil (you can use the 'golden oil' from frying the tofu) before adding the ginger and chillies, and stir for 1 second. Quickly add in the shitake mushrooms and turmeric and give it another quick stir for a second. Add the French beans and then follow with the Shaohsing rice wine or veg stock. After a few stirs, add the red pepper and carrots, and toss well again.
Add in the soaked rice noodles and pour in the sauce. Cook for 2-3 minute and continue to gently toss and stir to mix all the ingredients, making sure any liquid has evaporated in the wok and the noodles have softened, but still have a bite.
Add the golden tofu pieces back into the wok and follow with beansprouts and spring onions. Season with toasted sesame oil and sprinkle over the dried chilli flakes. You can adjust the seasoning to your taste with extra tamari or soy if preferred.
Transfer to a serving plate and garnish with fresh coriander and chillies. Serve with the chilli oil and eat immediately.
Print Recipe
www.cauldronfoods.co.uk/
Did you make this recipe?
Share your creations by tagging @livegreenandgood on Instagram with the hashtag #livegreenandgood