Gingered Rhubarb & Custard Pancakes
Serves: 4
Ready in: 30 to 60 mins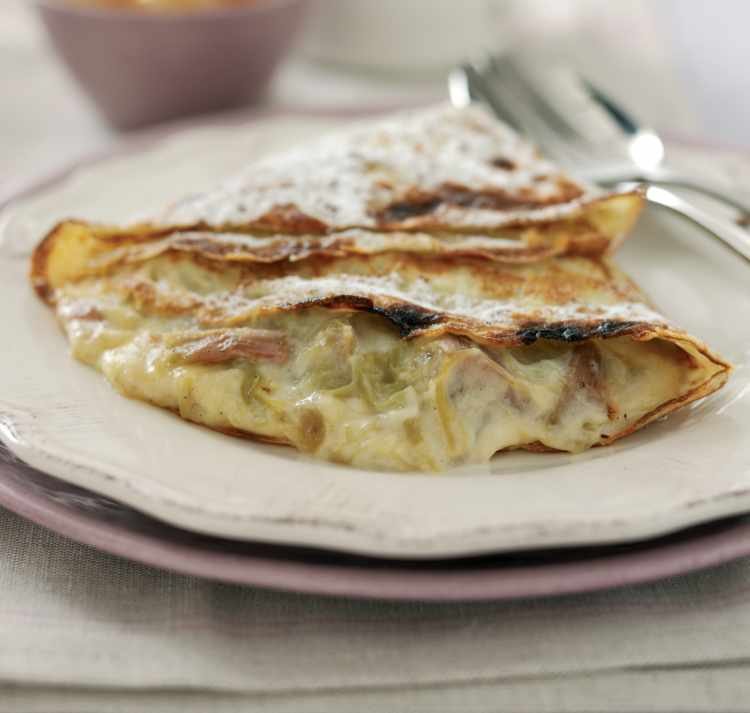 Ingredients:
75g plain flour
pinch of salt
2 large free-range British Lion eggs
150ml milk
a little oil for frying

[hd]For the filling[/hd]
350g trimmed rhubarb
50g caster sugar
2 stem ginger balls, finely chopped
500g carton of ready-made vanilla custard
icing sugar to dust
method:
Place the flour, salt and eggs in a large bowl with half the milk and whisk until smooth. Add the remaining milk and whisk again. Pour the batter into a jug. It should be the consistency of single cream, so add a little water if it seems too thick. You'll have twice the batter you'll need for the dessert so why not store the rest for breakfast? It will keep up to eight hours in the fridge.
Heat a 20cm diameter non-stick frying pan until hot and coat in a little oil. Pour a little batter into the pan and immediately turn the pan around to spread the batter thinly and evenly over the base. Cook for two minutes, flip and cook again.
Transfer the pancake to a plate, interleave with greaseproof paper and keep warm in the oven. Use the batter and a little more oil to make a further 7-8 pancakes in the same way (depending on thickness).
Cut the rhubarb into 5cm long pieces and place in a small pan with the sugar and 2 tbsp water. Place on a low heat, slowly bring to the boil, cook for ten minutes or until tender. Remove from the heat, stir in the ginger and leave to cool.
When cold, fold in half the custard. Divide the mixture between four pancakes and fold into quarters. Place on a non-stick baking sheet and dust with icing sugar. Place the pancakes under a hot grill and cook for 1-2 minutes or until the tops are crispy and caramelised.
Print Recipe
www.eggrecipes.co.uk
Did you make this recipe?
Share your creations by tagging @livegreenandgood on Instagram with the hashtag #livegreenandgood