Fusilli Provençale with Peppers and Olive Tapenade
Created for Garofalo by Sara Danesin, former MasterChef finalist. This recipe brings together soft tasty peppers and earthy tapenade. It's a winning combination when mixed with the healthy whole wheat fusilli.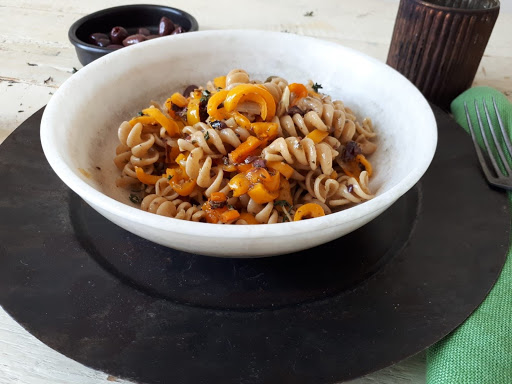 Ingredients:
320g Garofalo whole wheat fusilli
300g yellow and red peppers, thinly sliced
1 banana shallot, finely chopped
2 garlic cloves, crushed
4 tbsp olive oil 1/2 tbsp dry oregano
For the tapenade:
60g black olives, pitted
1 garlic clove
1 tbsp capers
2 tbsp olive oil
method:
Place a large frying pan on a medium heat and add the olive oil, chopped shallot, garlic and oregano.
Sauté until soft and then add the strips of peppers. (The peppers will take a variable cooking time depending the size but expect a time between 15-20 minutes).
Whilst the sauce simmers, cook the pasta in boiling salted water for the time stated on the pack; the right cooking time for al dente whole wheat fusilli is 11 minutes.
For the tapenade, place the olives, capers, garlic and olive oil in a mini blitzer (or a pestle and mortar) and blitz/break down to a rough paste. Set aside.
When the pasta is cooked, drain well and pour into the pepper sauce. Mix well to coat the pasta and add the tapenade to finish.
Warm four plates and serve the pasta with a drizzle of olive oil and a sprinkle of oregano.
Print Recipe
Did you make this recipe?
Share your creations by tagging @livegreenandgood on Instagram with the hashtag #livegreenandgood