Egg Fried Rice
Serves: 4
Ready in: 15 to 30 mins
"There's nothing like a rice dish to fill you up - and you can have this on the table faster than a takeaway!"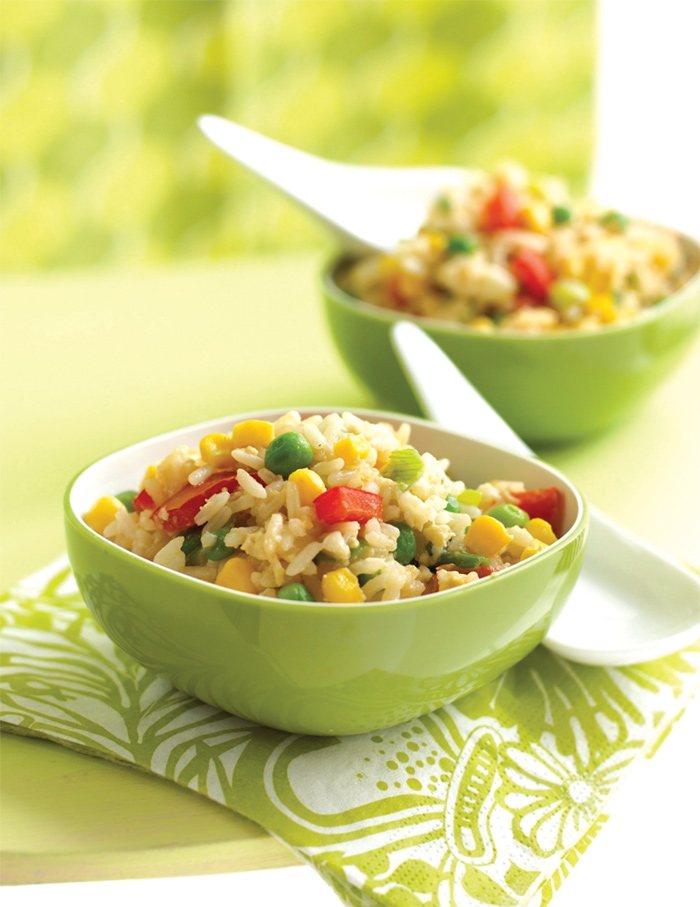 Ingredients:
150g easy-to-cook long grain rice
1 red pepper
1 bunch spring onions
2 tbsp sunflower oil
1 garlic clove, crushed
198g can Green Giant Sweetcorn, drained
150g frozen peas
2 large free-range eggs, beaten
3 tbsp reduced-salt soy sauce
method:
Cook the long grain rice according to the packet instructions then rinse in cold water and drain very well.
Meanwhile, prepare the fresh vegetables. Remove the seeds from the pepper and cut it into small squares. Trim the spring onions and slice finely.
Heat the sunflower oil in a large wok over a high heat. Add the prepared peppers and spring onions, then toss in the crushed garlic clove and stir fry for 3-4 minutes.
Add the peas, sweetcorn, garlic and rice then stir-fry for 4-5 minutes more until hot.
Make a well in the centre of the mixture, add the eggs, cook for 1 minute then stir the eggs into the rice.
When the eggs have set, pour in the soy sauce and toss together. Serve the rice piping hot.
Print Recipe
www.jollygreengiant.co.uk
Did you make this recipe?
Share your creations by tagging @livegreenandgood on Instagram with the hashtag #livegreenandgood