Deliciously Ella's Potato Yaki Udon Noodles
Serves: 2
Cost Cutting Eco Friendly Gluten Free‏ Quick Make Vegan Friendly
If you're planning on cooking this recipe, why not share it with by taking a photo of your dish and tweeting @TastyPotatoes, or tagging them on Instagram @potatoes_morethanabitontheside? We can't wait to see your dishes!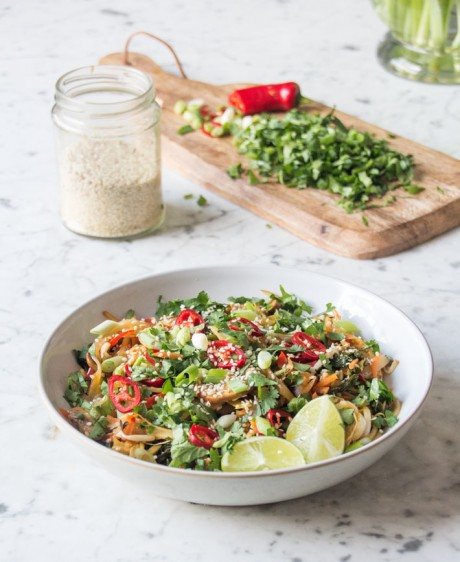 Ingredients:
2 tbsp sesame oil
2 cloves garlic
1 thumb-sized piece ginger
1 red chilli
1 leek
1 red pepper
5 chestnut mushrooms
1 carrot
2 handfuls kale
2 handfuls beansprouts
Juice of 1 lemon
1 tbsp olive oil
2 tbsp tamari
2 tbsp sesame seeds
2 spring onions
Small bunch coriander
1 large baking potato
method:
Spiralise the potato on the larger setting with your spiraliser. Heat the olive oil in a frying pan and add the potato spirals. Cook for 15-20 minutes on a medium heat, tossing every few minutes to prevent burning and sticking. Taste to test.
While that cooks, finely chop the garlic, ginger and half the chilli. Add sesame oil to a frying pan and add the garlic, ginger and chilli. Heat them gently for a few minutes. Slice the leek on the diagonal, slice the pepper thinly and add both to pan. Slice the mushrooms and kale, and grate the carrot then add all to the pan along with the bean sprouts. Pour in the tamari and lemon juice, give it all a stir and leave to cook for a few minutes.
Finely slice the remaining chilli, spring onions and the coriander. When the potato noodles are cooked, remove them from the heat and gently combine with the stir-fried vegetables. Plate up and sprinkle with lots of sesame seeds, the chilli, spring onion and coriander before serving. Enjoy!
Print Recipe
www.lovepotatoes.co.uk/
Did you make this recipe?
Share your creations by tagging @livegreenandgood on Instagram with the hashtag #livegreenandgood