Corn Soup and Granola Bread
Serves: 4
This comforting and healthy soup has a sunny disposition and is sure to cheer even the dullest of days.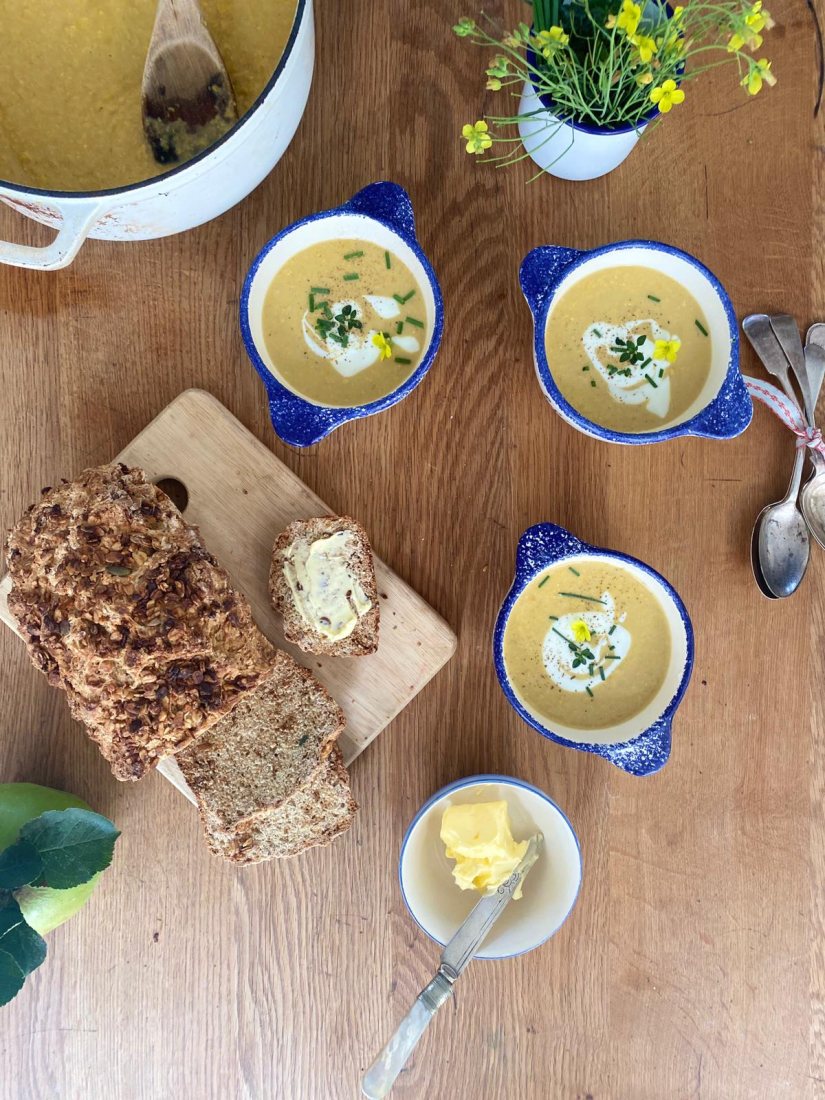 Ingredients:
1 leek (washed, trimmed, and finely chopped)
1 garlic clove, crushed
2 tablespoons of rapeseed oil
1 tablespoon of butter
4 corn on the cobs (or about 200g of frozen or tinned sweetcorn)
300g potato, peeled and finely chopped (one medium potato)
500ml boiling water with one vegetable stock cube added
300ml milk (or coconut milk)
A pinch Salt and pepper
A handful of chives to snip on top
A dollop of thick yogurt or crème fraiche

For the granola bread:

300g plain flour
150g wholemeal or spelt flour
1 teaspoon of salt
2 teaspoons of bicarbonate of soda
150g Lizi's Original Granola
2 tablespoons of runny honey (if thick honey you will need to warm it)
400ml of natural yogurt or buttermilk
A handful of Lizi's Original Granola to sprinkle on top


method:
With a sharp knife, strip the kernels from the corn cobs. Trim the leek and finely chop the potato. Pop these into a pan with two tablespoons of rapeseed oil and cook on a medium heat until softened. The leeks will be fully soft, but the potato can be slightly firmer as it will finish cooking in the soup. Add a splash of water if the potatoes start to stick.
Add the crushed garlic and butter to the pan and cook for around 3-4 minutes.
Add in the corn kernels and pour over 500ml boiling water with a vegetable stock cube mixed in. Season with the salt and pepper and simmer for around 20 minutes.
Add into the milk and gently heat for another 10 minutes. Lift out a piece of corn to check its soft. Once the corn is softened, transfer to a food processor or blender. Blend and season again if needed. Once blended and ready to serve, add a swirl of thick yogurt or cream and some freshly cut chives to serve.
For the bread, preheat the oven to 200c degrees. In a large mixing bowl, place the plain flour, wholemeal/spelt, salt, bicarbonate of soda and Lizi's Original Granola and stir to combine. Add the honey and yogurt/buttermilk to the bowl and mix until a sticky dough forms.
Dust a clean countertop with flour and tip the dough onto the counter. Knead gently for around one minute.
Line a deep round cake tin (7-8 inches) or loaf tin with non-stick baking paper. Shape the dough to fit the tin and place in, sprinkling a handful of Lizi's Original Granola on top. Bake for 45 minutes until golden brown.
Once cooked, lift out of the tin and cool on a cooling rack for around three hours before eating. Enjoy!
Print Recipe
www.lizis.co.uk/
Did you make this recipe?
Share your creations by tagging @livegreenandgood on Instagram with the hashtag #livegreenandgood