Chocolate Chip & Hazelnut Biscuits
Serves: 16
Creamy chocolate and chunky hazelnuts combine to make a deliciously sweet yet light biscuit.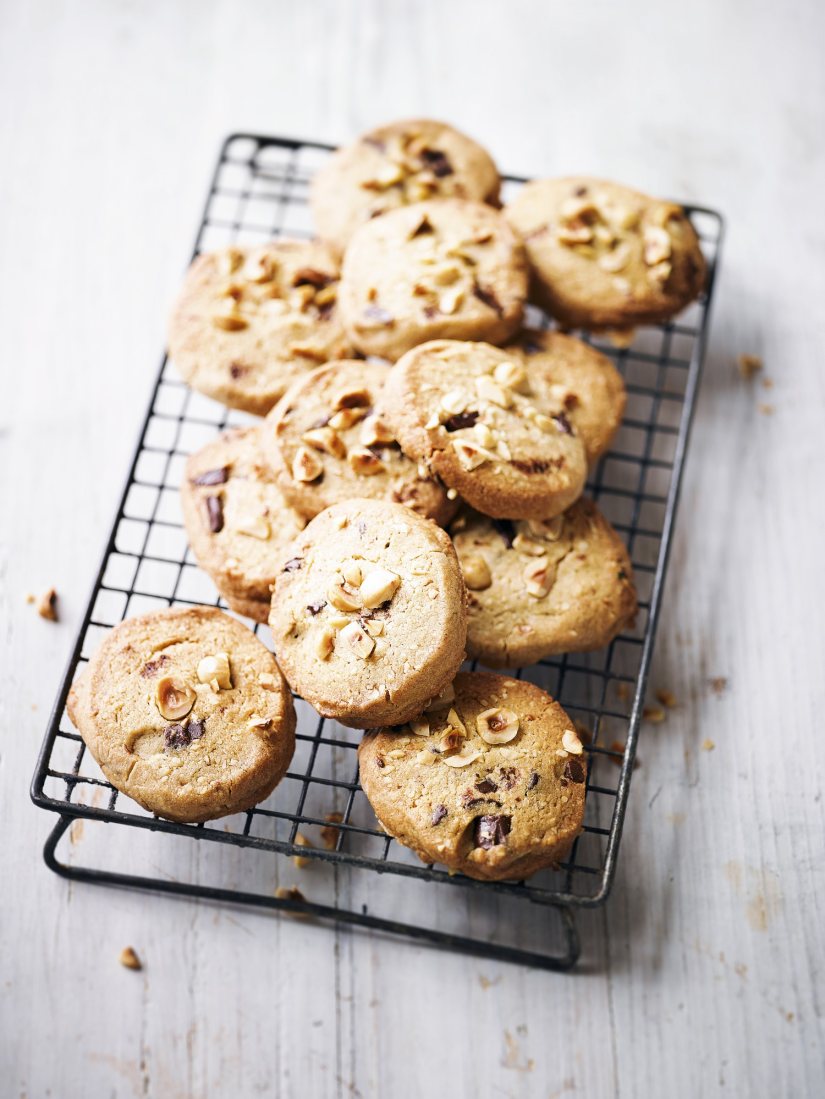 Ingredients:
100g hazelnuts, blanched
125g butter, softened and unsalted
100g light brown muscovado sugar
25ml maple syrup
1 medium Waitrose British Blacktail free-range egg, beaten
200g plain flour
70g milk or dark chocolate chunks
method:
Preheat the oven to 200C/180F/Gas 6. Place the hazelnuts on a baking tray and toast in the oven for 4-5 minutes. Remove approximately 25g of the hazelnuts and set aside. Place the rest in a food processor and blitz until coarsely chopped
Beat together the butter and sugar until light and creamy. Gradually add the maple syrup and the egg and mix well, then gradually add the flour, ground hazelnuts and chocolate chips. Once the mixture is soft and dough-like, tip it out onto a sheet of clingfilm and roll it into a long sausage shape (about 7cm in diameter). Place the dough in the fridge and chill for one hour.
Reduce the oven temperature to 160C/140F/ Gas 3. Line two baking trays with parchment paper. Unwrap the dough and cut it into 16 biscuit shapes, then place them on the baking trays. Chop the remaining hazelnuts and scatter over the top. Bake for 20 minutes until golden brown. Place the cookies on a wire rack and leave to cool for a few minutes, then serve warm on their own or with vanilla ice cream.
Print Recipe
www.waitrose.com/content/waitrose/en/home/recipes/baking/cookie-biscuit.html
Did you make this recipe?
Share your creations by tagging @livegreenandgood on Instagram with the hashtag #livegreenandgood