Charred Sweetcorn Caesar Salad
Serves: 4
Ready in: Under 15 Mins
This twist on the classic Caesar salad is the perfect side dish for your plant-based barbecue.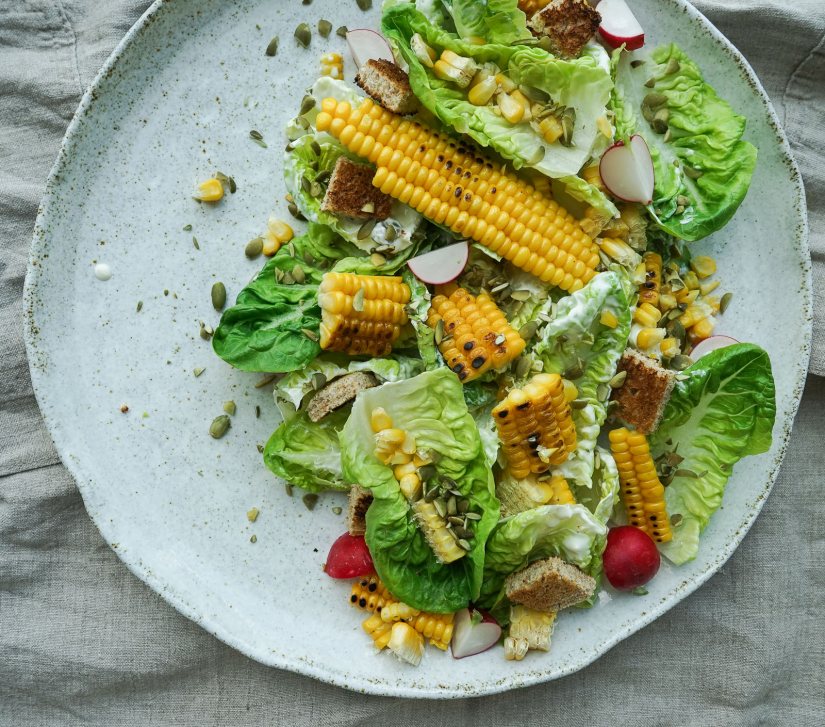 Ingredients:
For the dressing:
40ml plant mayonnaise or normal mayonnaise
40ml plant yoghurt (oat, coconut or soy)
1 squeeze of lemon juice
1 tbsp capers
1 torn nori sheet
salt and pepper, to taste

For the salad:
2 barbecued or griddled corn on the cob
4 baby gem lettuces
6 radishes
30g toasted pumpkin seeds

For the croutons:
sourdough or leftover toast
1 garlic clove
olive oil
method:
Start by either barbecuing the corn or griddling the cobs with olive oil until they turn a nice charred colour. Set aside.
For the dressing, add all of your dressing ingredients into a bowl, and blitz with a handheld blender (or in a countertop blender) until mixed well. Make sure the nori sheet is torn into small pieces so that it does not get stuck in the blender. Once mixed, set aside.
Take your sourdough or leftover toast and rub with the garlic clove. Pour over a generous amount of olive oil and place under a grill, in the oven. Once crisp, remove from the oven and cut into squares ready to go on top of your salad.
Cut the stems off your baby gem lettuces. Add the leaves to a big bowl with a generous dollop of your dressing mix until all leaves are covered. Plate up on a nice platter.
Cut the corn off the cob, slicing big chunks off at a time, and place the corn on the lettuce leaves. Scatter over the croutons, sliced radishes and toasted pumpkin seeds for the finale!
Print Recipe
www.bettinaskitchen.com/
Did you make this recipe?
Share your creations by tagging @livegreenandgood on Instagram with the hashtag #livegreenandgood