CAULIFLOWER BREAD
Serves: 8
Cost Cutting Eco Friendly Gluten Free‏ Vegan Friendly
Try this recipe from Rose Lloyd Owen to use up leftover cauliflower leaves and stalks – waste not, want not!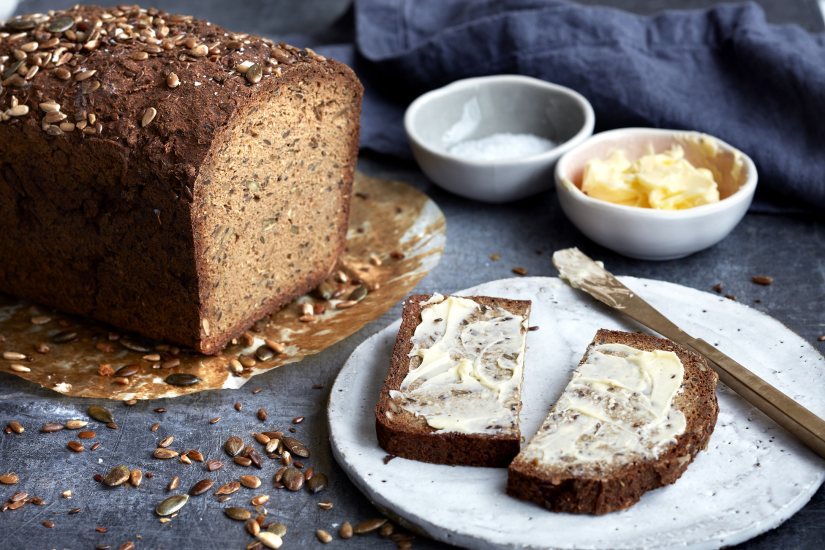 Ingredients:
700g Doves Farm Gluten-Free Brown Bread Flour
15g salt
200g cauliflower stalks/stems, blended
20g brown sugar
40g linseeds
60g sunflower seeds
100g pumpkin seeds
30g poppy seeds
14g yeast
400g oat milk
15g psyllium husks
150g aquafaba
20g apple cider vinegar
40g olive oil
3g dried thyme/oregano
method:
To prepare the cauliflower stalks and leaves, wash them, and blitz in a blender.
Warm the oat milk gently, take off the heat, and add the yeast.
Sieve together all of the dry ingredients: flour, psyllium husks, salt and sugar.
Whisk the aquafaba in a freestanding mixer until it is white and fluffy, and has tripled in size.
Stir the aquafaba and milk mixture in the flour mixture, and bring together. Then add the remaining ingredients.
Tip the dough into an oiled 1kg cake tin, and cover with cling film. Leave to rest in a warm place for an hour while the dough rises.
Bake in a preheated oven at 180C/350F/Gas 4 for two hours.
Print Recipe
Did you make this recipe?
Share your creations by tagging @livegreenandgood on Instagram with the hashtag #livegreenandgood