Carrot Top Pesto
Serves: 6
Ready in: Under 15 Mins
Cost Cutting Eco Friendly Freezes Well Gluten Free‏ Quick Make
Carrot tops are full of flavour, and like the leaves of other roots (like celeriac or beetroot) if they're in reasonable nick, they're good to eat – so don't let them go to waste! Instead, try this pesto from Riverford Organic Farmers – it's great tossed through pasta, or drizzled over roasted carrots, new potatoes or greens.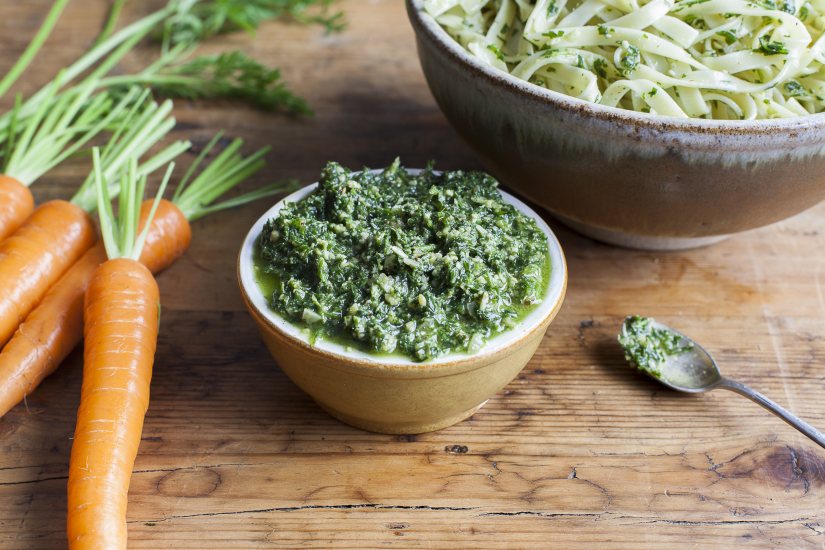 Ingredients:
leafy tops from 1 bunch of carrots, larger stems discarded, feathery leaves chopped
small handful basil leaves (or try parsley or chervil for a different flavour)
50g walnuts, hazelnuts or almonds
25g veggie-friendly Parmesan
1 garlic clove
100ml or so olive oil
salt & pepper, to taste
method:
In a food processor, blitz the carrot tops, basil, nuts, cheese and garlic.
Gradually add enough oil to make a pesto consistency.
Season to taste, and serve. You can also freeze leftovers in ice cube trays for portion control, or keep covered with a layer of olive oil in the fridge for a few days.
Print Recipe
www.riverford.co.uk/
Did you make this recipe?
Share your creations by tagging @livegreenandgood on Instagram with the hashtag #livegreenandgood