California Walnut, Spinach and Feta Baklava
Serves: 4
Baklava is usually seen as an indulgence, but this recipe shows it can be enjoyed as a savoury dish – either as a family dinner, or prepared in advance for lunches throughout the working week. This also freezes incredibly well making it a convenient, delicious option for lunch or dinner.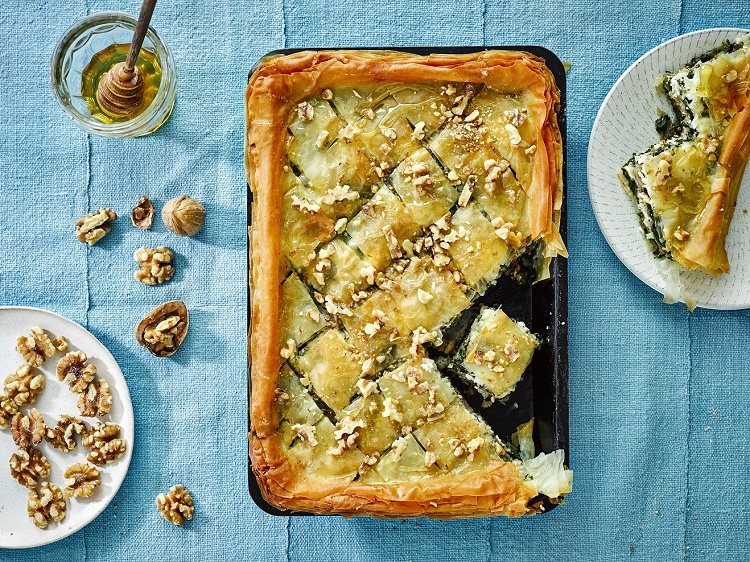 Ingredients:
160g spring onions, finely sliced
1 tbsp olive oil
900g washed spinach leaves, wilted and chopped
5 banana shallots, finely sliced
a pinch of salt
1 tsp caster sugar
150g California walnuts, toasted
20g fresh dill, finely chopped
1 tsp dried mint
½ tsp grated nutmeg
2 free-range eggs, whisked
ground black pepper
60g melted butter
9 sheets of filo pastry
300g feta cheese, crumbled
1 tbsp honey
method:
Preheat the oven to 180C/350F/Gas 4. Sauté the spring onion in a teaspoon of oil until soft. Add the spinach and sauté for a further minute, then leave aside to cool in a large bowl.
Place the shallots into a medium-sized frying pan with the remaining olive oil, salt, and sugar and sauté over a gentle heat until slightly caramelised.
Place the toasted California walnuts into a food processor and blitz until coarsely chopped.
Next, add the chopped dill, dried mint, nutmeg and eggs to the large bowl with the spinach, season with ground black pepper and stir to combine.
Brush a 20cm x 30cm baking tray with butter and line with three layers of filo, brushing with butter in-between each of the layers. Spread over half the caramelised shallots, followed by half the spinach mixture, half the feta and a third of the California walnuts.
Repeat the layers using the remaining fillings, reserving a third of the California walnuts.
Finish with three layers of buttered filo, trimming the final layer to fit the dish. Brush the top with butter and score, sprinkling with a little water.
Place in the oven and bake for 25-30 minutes, or until golden brown and crispy. Sprinkle with the remaining California walnuts and drizzle with honey to serve.
Print Recipe
californiawalnuts.uk/
Did you make this recipe?
Share your creations by tagging @livegreenandgood on Instagram with the hashtag #livegreenandgood