Braised Tofu with Pak Choi and Mango
Serves: 2
Ready in: 15 to 30 mins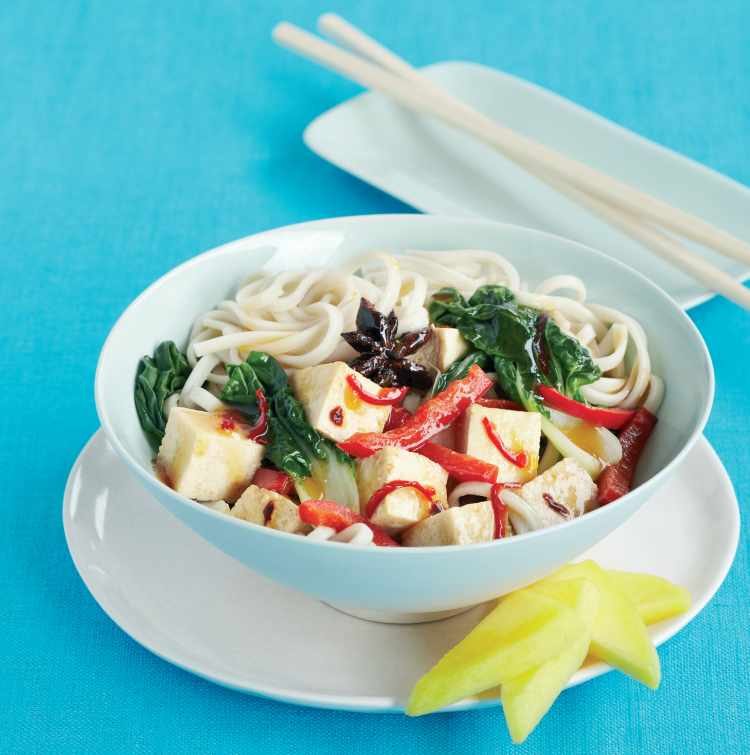 Ingredients:
150g tofu, cubed and patted dry
1 red pepper, thinly sliced
3 baby pak choi cut in half
1/2 a mango, sliced
1 tbsp rice wine or dry sherry
pinch of dried chilli
1 tbsp groundnut oil

[hd]For the braising liquor[/hd]
1 tbsp light soy sauce
4 tbsp lemon juice
2 tbsp orange juice
1 tsp groundnut oil
1 tsp caster sugar
1 tbsp honey
1/2 a red chilli
1 star anise
method:
Whisk together all the ingredients in the braising liquor and set aside. Heat 1 tbsp of groundnut oil in a wok until smoking hot and add in the tofu, red pepper slices and dried chilli. Stir-fry for two minutes until light brown.
Add in the rice wine or dry sherry and allow the liquor to bubble and reduce, until it evaporates the alcohol off.
Add in the ingredients you whisked together earlier and braise over a low heat for four minutes allowing the tofu to absorb some of the flavors. Add in the pak choi and braise for a further minute, until the pak choi is wilted.
Serve with rice noodles and slices of mango with plenty of the cooking liquor spooned over.
Print Recipe
www.charlottetolhurst.com
Did you make this recipe?
Share your creations by tagging @livegreenandgood on Instagram with the hashtag #livegreenandgood