Blueberry Tart
Serves: 8
Ready in: 60 mins +
Know your nutrients
This is a real show stopper and ideal for taking round to a friend's house when visiting for lunch; turning up with one of these is guaranteed to put a smile on everyone's face! It requires a little effort, but the end result is definitely worth it. The base is cooked, and the filling is raw. Recipe extracted from The muymybueno Cookbook by Justine Murphy (Meze, £25).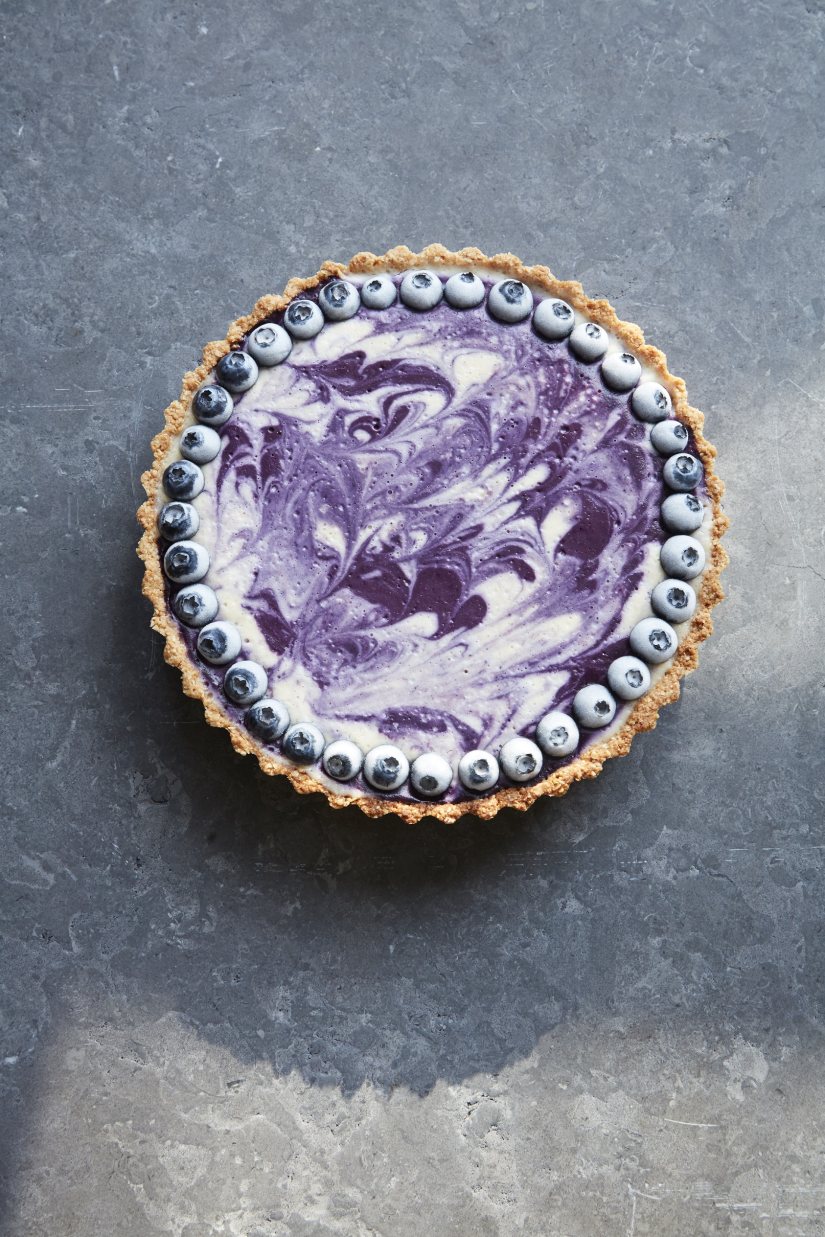 Ingredients:
For the base:

150g rolled oats
50g ground almonds
25g desiccated coconut
50ml maple syrup
50g coconut oil
a pinch of Himalayan salt
For the filling:
350g raw cashews, soaked in water overnight
100ml coconut oil, melted
100ml coconut milk (from a carton)
200ml filtered water
250ml rice malt or maple syrup
a pinch of Himalayan salt
1 tsp vanilla powder
2 tbsp lemon juice
3 tbsp blueberry powder
400g fresh blueberries, to decorate
method:
Preheat your oven to 180C/350F/Gas 4. Lightly grease a 20cm fluted loose-bottomed cake tin with coconut oil, then line it with parchment paper.
Add the rolled oats to your food processor and whizz until it creates a flour-like texture. Add the remaining ingredients and blend until well combined.
Press the mixture evenly into the prepared tart tin and prick the base a few times with a fork. Bake in the preheated oven for 10 minutes, or until golden-brown. Remove it from the oven and leave in the tin for 10 minutes to cool, then gently turn the base out and leave it to cool completely on a wire rack.
While the base is cooling, make the filling. Drain and rinse the cashews, discarding the soaking water, then process them in a blender with the melted coconut oil, coconut milk, water, syrup and salt until smooth.
You now need to separate the mixture. Pour half of it into a jug and stir in the vanilla and lemon juice. Add the blueberry powder to the other half of the mixture in the blender, add an extra tablespoon of water and blend until smooth, then pour into another jug.
Holding both jugs, one in each hand, pour the filling mixtures over the cooled tart base, ensuring the vanilla and blueberry mixtures are layered and dolloped evenly. Swirl them together with a toothpick to get a beautiful marbled effect – less is more, so try not to overdo this.
Place the tart in the freezer for 15 minutes, then as the cheesecake mixture starts to set, you can add the fresh blueberries, pressing them very gently into the filling around the edge. Place the decorated tart back into the freezer and leave overnight to completely firm up.
Remove it from the freezer 10 minutes before you wish to serve the tart, allowing it ample time to thaw and become easy to cut.
Print Recipe
mymuybueno.com/
Did you make this recipe?
Share your creations by tagging @livegreenandgood on Instagram with the hashtag #livegreenandgood