Beetroot Falafel with Matcha sauce
Serves: 4
Ready in: 60 mins +
This delicious recipe may be gluten-free and vegan, but it certainly doesn't lack in flavour! Vibrant beetroot lends an unusual twist to Middle Eastern falafel, and is served atop a bed of courgette noodles with a dollop of matcha sauce on top.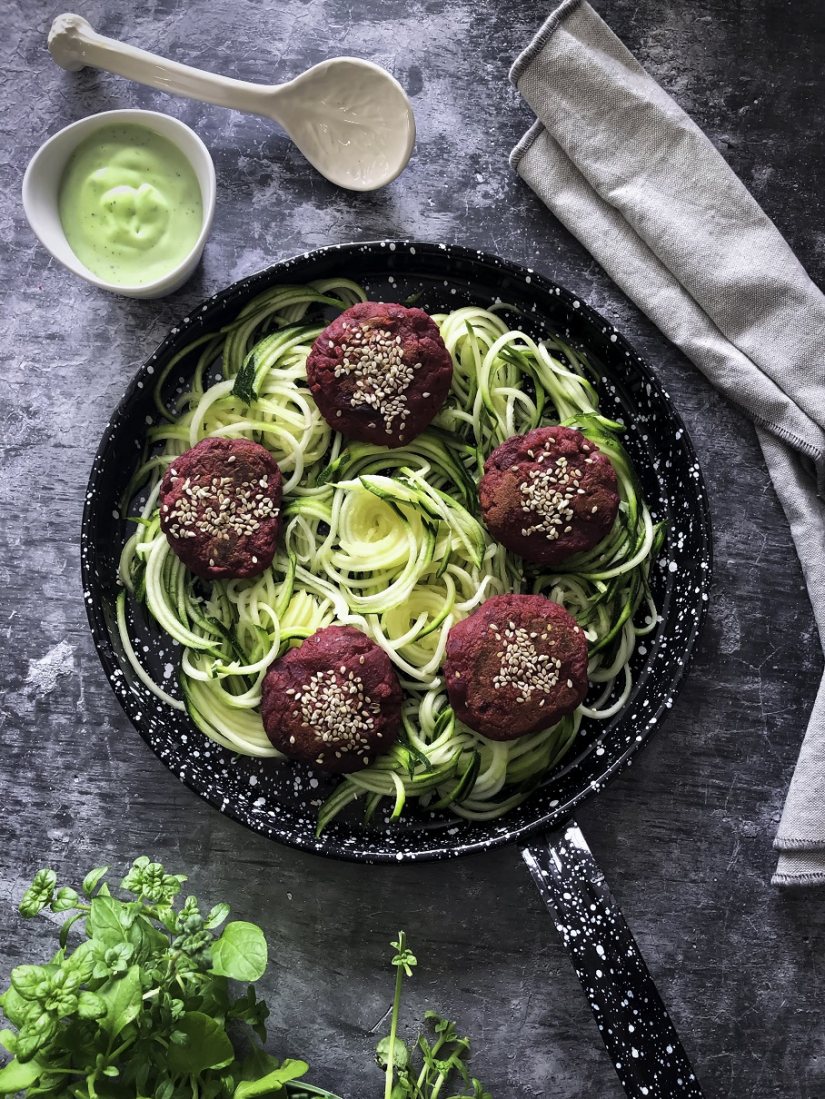 Ingredients:
125g chickpeas, boiled
5 tbsp ground flaxseed
1 medium-sized potato
3 medium-sized fresh beetroots
1 tsp turmeric
1 tsp oregano
fresh chives
a pinch of salt
1 tbsp of grapeseed oil (olive oil also works fine)
a pinch of sesame seeds
100g vegan yogurt (coconut works well)
1 tsp matcha
1 large courgette
fresh pennyroyal (basil works just as well)
1⁄2 a fresh lime
method:
To make the falafel, boil the potatoes and the beets in a saucepan. Once they're nearly cooked, add the chickpeas. Rinse the water and mash all of the ingredients together with the help of a fork or a mandolin. Add the flaxseed, turmeric, oregano, chives, salt, and grapeseed oil, mixing everything together with the help of a fork. It's okay to have small bits of beets that aren't fully mashed up: this will give your falafel more texture. Leave to cool off for at least one hour. (They get to their perfect consistency after 12 hours in the fridge*, but you can use them before as well).
Shape the mixture into 14–16 falafel pieces, just like in the picture. Preheat the oven to 200C/400F/Gas 6, and let them cook for 10-15 minutes, or until they're golden-brown. About 15 minutes before you're about to serve, spiralise the courgette using a spiraliser or mandolin. Season with some grapeseed oil and the juice of half a fresh lime. Place the falafels on top and sprinkle them with some sesame seeds.
To make the accompanying matcha sauce, blend the yoghurt and matcha together, using a whisk. Place the sauce on top of each falafel, and add some fresh pennyroyal leaves on top. Enjoy!
Print Recipe
Did you make this recipe?
Share your creations by tagging @livegreenandgood on Instagram with the hashtag #livegreenandgood