Beetroot burgers with soused cucumbers, soured cream & dill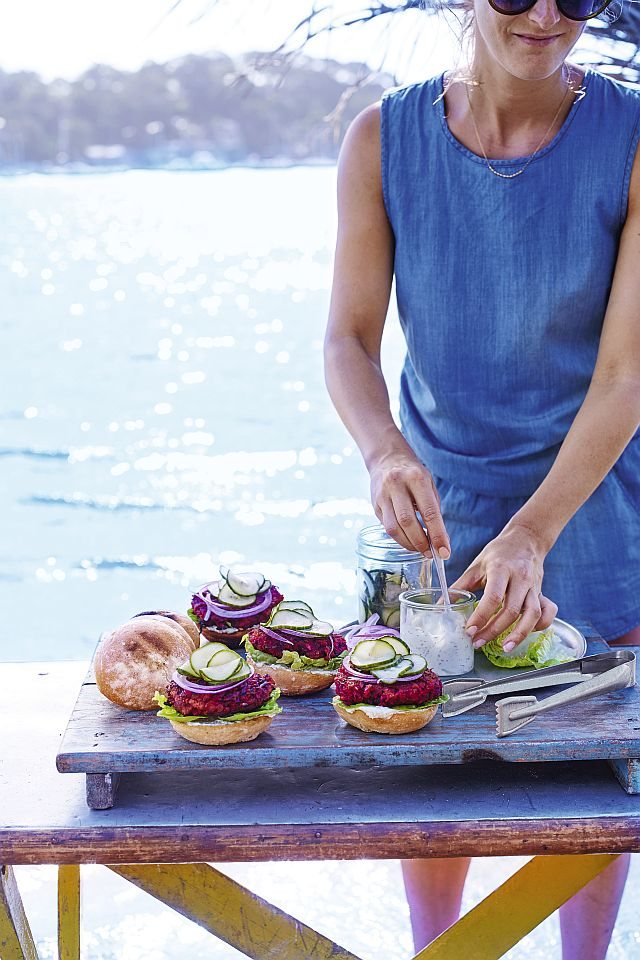 Ingredients:
100ml white balsamic vinegar
50g caster sugar
6 black peppercorns
1 cucumber portion, cut into 3mm slices
For the burgers 1 tbsp olive oil, plus extra for brushing
1 onion, finely chopped
3 cloves garlic, crushed
1 tsp caraway seeds
400g can haricot beans, drained and rinsed
1 medium Waitrose British Blacktail Free Range Egg, beaten
2 raw beetroot, scrubbed, peeled and grated
100g fresh breadcrumbs
20g pack fresh dill, leaves only, roughly chopped
For the soured cream 170ml tub soured cream
4 tsp The English Provender Grated Hot Horseradish
To serve 4 burger buns, halved
Lettuce and sliced red onions
method:
To prepare the cucumber, heat the vinegar with the sugar in a small pan over a low heat for about 3-4 minutes, until the sugar has dissolved. Add the peppercorns and pour over the sliced cucumber. Set aside for 30 minutes at room temperature, to pickle.
For the burgers, heat the oil in a small frying pan over a medium heat. Add the onion and cook for 5 minutes until softened and golden. Add the crushed garlic and caraway seeds and continue to cook for 1 minute. Remove from the heat and leave to cool.
Blitz the beans in a food processor until smooth, add the egg and scrape into a large bowl. Mix in the beetroot, breadcrumbs, half the chopped dill and the cooled onion mixture. Season well. Using damp hands, divide the mixture into 4 equal pieces and shape into burgers. Set aside in the fridge for at least 30 minutes or for up to 4 hours to set slightly.
In a small bowl, mix the soured cream with the horseradish and the remaining chopped dill. Season to taste.
Preheat the barbecue, griddle or grill to high. Brush the burgers with a little olive oil and cook for 3 minutes on each side, turning carefully, until piping hot throughout. Toast the buns at the same time, then serve the burgers in the buns with the soured cream and lettuce, topped with some red onion slices and the soused cucumbers.
Print Recipe
www.waitrose.com
Did you make this recipe?
Share your creations by tagging @livegreenandgood on Instagram with the hashtag #livegreenandgood