Baked Potato with Beetroot, Feta & Mint Salad
Serves: 4
Ready in: 60 mins +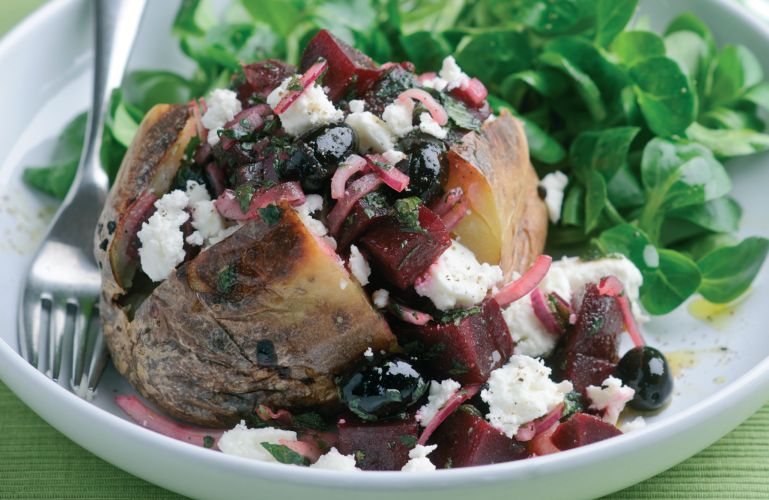 Ingredients:
4 large baking potatoes, scrubbed and pricked with a fork
a little butter (optional)

[hd]For the salad[/hd]
3 tbsp extra virgin olive oil
1 tbsp red wine vinegar
1 tsp caster sugar
small bunch fresh mint, leaves chopped roughly
salt and freshly ground black pepper
2 tbsp pine nuts
2 packs traditional cooked beetroot, cut into 1cm cubes
1 small red onion, finely sliced
a handful of black olives (optional)
300g vegetarian feta, cut into
1cm cubes
method:
Preheat the oven to 200C/400F/Gas 6. Put the potatoes in the oven, directly on the shelf, and bake for 1¼-1½ hours until soft when pierced with a skewer.
Make the salad by whisking together the olive oil, red wine vinegar and caster sugar together in a large bowl. Stir through the mint and season to taste.
Toast the pine nuts in a dry frying pan until golden brown. Add to the salad dressing, along with the beetroot, onion and black olives, if using. Set aside for the flavours to mingle.
Just before you are ready to eat, stir the feta through the salad. Open up each baked potato and fluff up the inside a little with a fork, adding a little butter if you like. Spoon the salad into each potato and serve immediately.
Print Recipe
www.lovebeetroot.co.uk
Did you make this recipe?
Share your creations by tagging @livegreenandgood on Instagram with the hashtag #livegreenandgood