Aubergine & Walnut Parmigiano
Serves: 4
Ready in: 30 to 60 mins
Know your nutrients
Heart-healthy and gluten-free, this hearty bake is the ultimate comfort dish. Serve with a salad and crusty bread. You can also make this dish in advance and simply cook when needed, making it ideal for dinner parties.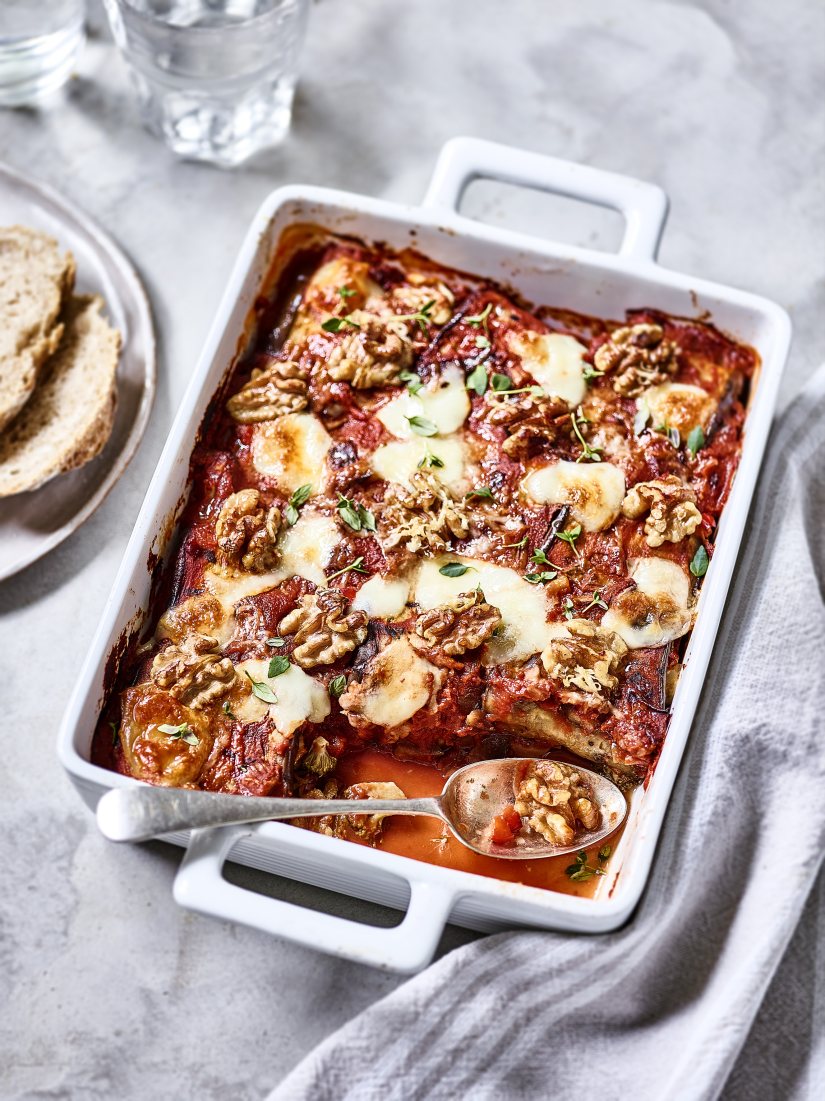 Ingredients:
2 aubergines, thinly sliced lengthways
2 tbsp olive oil
1 red pepper, finely diced
100g broccoli florets, finely chopped
2 tomatoes, chopped
50g California Walnuts, finely chopped, plus 15 whole walnuts
125g pack reduced-fat mozzarella, thinly sliced
400g passata
1 tbsp vegetarian-friendly Parmesan-style cheese, finely grated
method:
Preheat the oven to 200C/400F/Gas 6. Brush the aubergine slices with a little oil and griddle or fry for 1-2 minutes each side.
Add the remaining oil to a large frying pan and fry the pepper, broccoli, tomatoes and chopped walnuts for 4-5 minutes, until softened, then season well.
Select the 12 largest aubergine slices and place half a slice of mozzarella in the centre. Divide the filling between the slices and roll up, placing them sealed-side down in a greased ovenproof serving dish.
Finely chop any remaining aubergine slices and stir into the passata. Pour this over the aubergine rolls and scatter over the remaining mozzarella, torn and the whole walnuts. Sprinkle with Parmesan and bake for 30 minutes, until golden and tender.
Print Recipe
www.californiawalnuts.co.uk/recipe-database/
Did you make this recipe?
Share your creations by tagging @livegreenandgood on Instagram with the hashtag #livegreenandgood