5 Grain Savoury Porridge with Pickled Beetroot, Apple and Hazelnuts
Serves: 4
Ready in: Under 15 Mins
Pickled beetroot adds an unusual twist to this savoury porridge.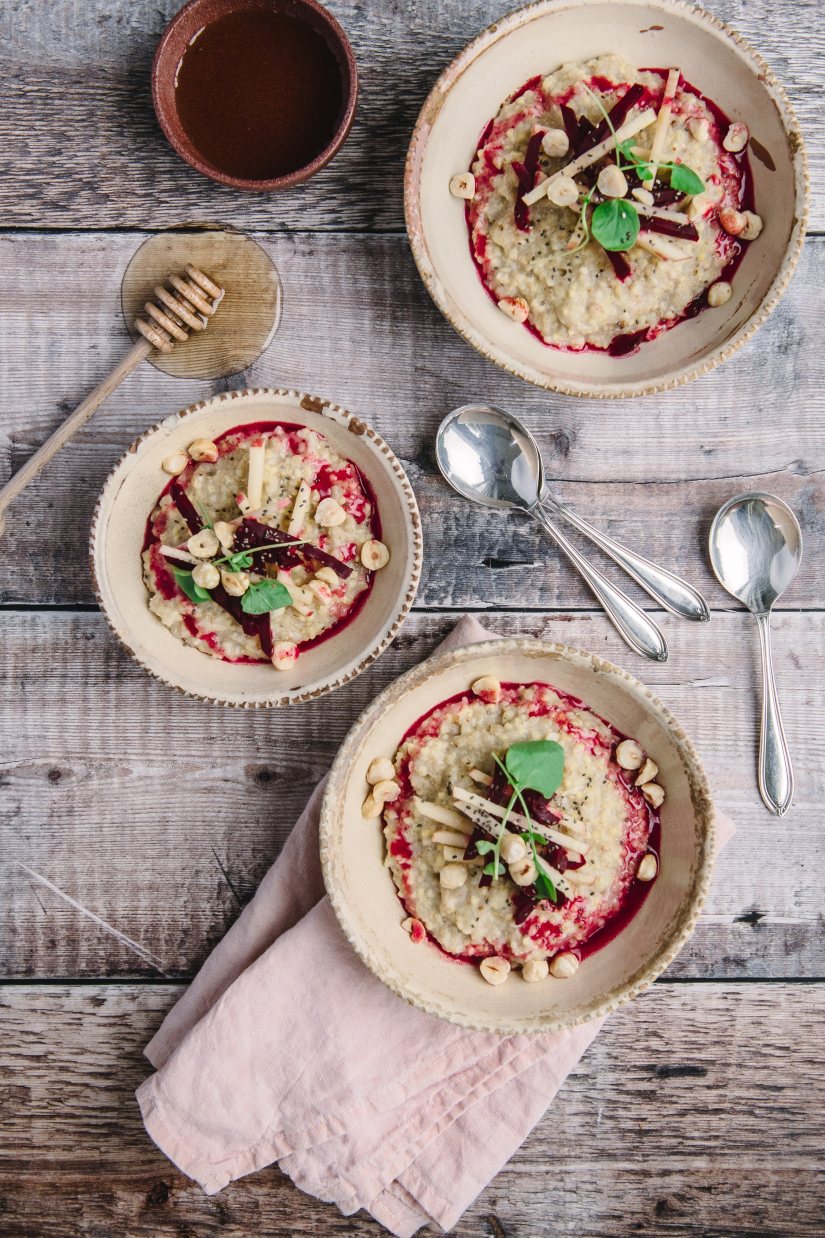 Ingredients:
1 jar of Baxters Shredded Beetroot
1 Pink Lady apple
100g hazelnuts
30g red vein sorrel
4 tbsp oil
80g millet
80g buckwheat
80g quinoa
80g steel cut oats
80g amaranth
4 tbsp chia seeds
1 litre of water
salt
method:
Drain the beetroot, retaining the vinegar, and pat dry on kitchen paper. Bring the water to the boil in a large pan and add the salt.
Rinse the grains under cold running water for one minute. Add them to the pan and cook on a medium heat, until the grains have soaked up most of the water. This will take around 30 minutes; if, at this point, the grains are not cooked to your liking, simply add a little more water and cook for longer. Season to taste.
At this point, the porridge can be cooled and stored in the fridge, then heated up each morning.
To serve, cut the apple into matches the same size as the beets.
Roast the hazelnuts in the oven at 180C/350F/Gas 4 for six minutes, then roughly chop them. Mix in two tablespoons of the pickling vinegar and the oil, then season.
In a separate bowl, mix the apple with an equal amount of the shredded beets. Add the nuts and sorrel, then drizzle with the dressing.
Top the porridge with the salad, a sprinkling of chia seeds and serve straight away.
Print Recipe
www.baxters.com/
Did you make this recipe?
Share your creations by tagging @livegreenandgood on Instagram with the hashtag #livegreenandgood