Veggie Rotolo
Serves: 6
Ready in: 30 to 60 mins
Hearty and delicious, this vegan-friendly rotolo is flavour-packed and perfect for chilly autumn evenings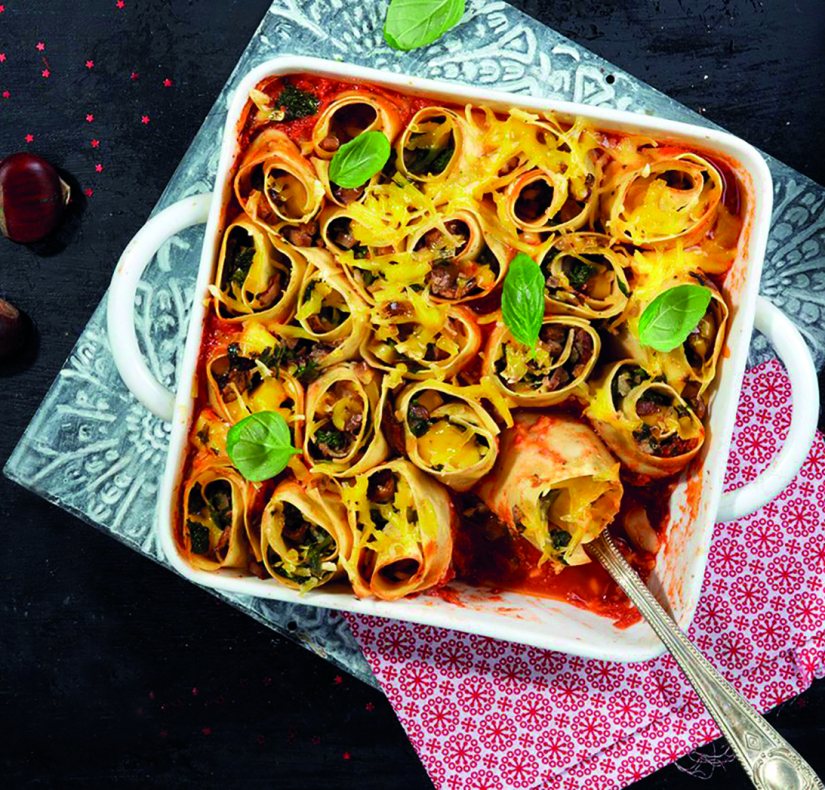 Ingredients:
6 tbsp olive oil
3 shallots, finely sliced
3 garlic cloves, crushed
240g chestnuts, finely chopped
3 rosemary sprigs
250g fresh wild mushrooms, finely sliced
salt and freshly ground pepper
500g Swiss chard, chopped
400g tomato sauce
125ml vegan white wine
200g Violife Original Block, cut into small cubes
250g vegan dried lasagne sheets
2-3 tbsp Original Grated Violife
basil leaves
method:
Heat two tablespoons of olive oil in a frying pan and fry the shallots until soft. Add the garlic, 60g of the chestnuts and the rosemary. Add the mushrooms, with another two tablespoons of olive oil, and season. Cook for three minutes, until they begin to soften. Add the Swiss chard and tomato sauce and let it simmer for five minutes.
In a blender, mix the remaining chestnuts with 150ml water, until creamy. Then, whisk the wine and chestnut cream together to create a sauce. Season and add half of the mushroom mixture in the pan and cook for one minute. Remove and discard the rosemary sprigs, then set aside. Heat up olive oil with the tomato sauce, basil, salt and pepper, until it thickens. Add the Violife Original Block cubes.
Preheat the oven to 180C/350F/Gas 4. Boil a pot of water and drop the lasagne sheets into the boiling water for two minutes, then plunge them into the cold water. Separate the sheets and spread them out onto a clean towel. Spread tomato sauce on the bottom of a baking dish, then add the filling to two- thirds of each sheet, rolling up the shorter ends. Cut each roll in half, then position the rolls cutside up in the dish. Sprinkle with Violife Grated Original. Drizzle with oil and bake for 20 minutes, until the Violife has melted. Serve with fresh basil.
Print Recipe
www.violifefoods.com
Did you make this recipe?
Share your creations by tagging @livegreenandgood on Instagram with the hashtag #livegreenandgood