Veggie burger stacks with parsley pesto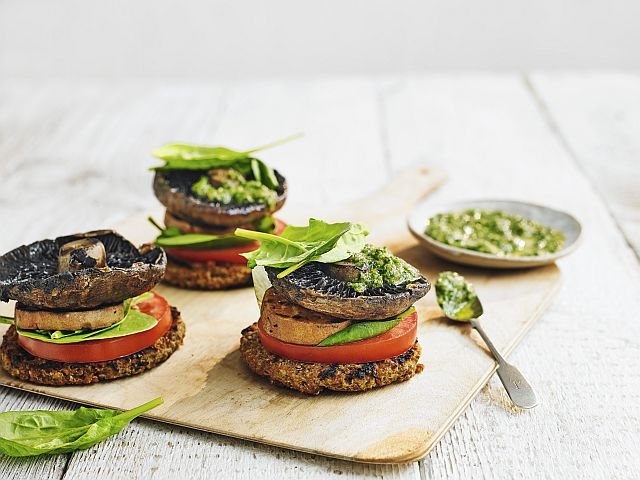 Ingredients:
70g pack Amy's Kitchen frozen Manhattan Veggie Burgers
4-6 tbsp olive oil
1 large sweet potato, cut into 1cm slices (discard the ends)
275g pack portabella mushrooms
4 slices from a large slicing tomato
1 handful baby spinach leaves
FOR THE PARSLEY PESTO 4 tbsp Cooks' Ingredients frozen Chopped Flat Leaf Parsley
2 tbsp toasted pine nuts
1 tsp Cooks' Ingredients frozen Chopped Garlic
6 tbsp finely grated Gran Moravia vegetarian hard cheese
8 tbsp olive oil
method:
Light your barbecue. Whizz the pesto ingredients together in a blender with a pinch of salt for a few minutes until combined.
Brush the 4 burgers on both sides with oil. Brush the sweet potato slices and mushrooms with oil and season. When all the coals have turned white, barbecue the sweet potato slices around the edge of the grill for 20-25 minutes, turning frequently, until tender and nicely charred. Barbecue the mushrooms for 8-10 minutes and the burgers for 4-5 minutes or until hot and cooked through. Brush with extra oil as needed. Warm the slices of tomato on the barbecue for a few minutes.
Place a burger on each plate. Add a tomato slice, a few spinach leaves and a round or two of sweet potato to each one. Top with a mushroom, a drizzle of pesto and a few more spinach leaves. Serve the remaining pesto separately so that everyone can help themselves.
Print Recipe
www.waitrose.com
Did you make this recipe?
Share your creations by tagging @livegreenandgood on Instagram with the hashtag #livegreenandgood