Vegan Thai Red Curry
Serves: 4
This fragrant Thai curry is chock full of flavour and contains three of your 5-a-day; perfect for when you need that extra boost of warmth and goodness during the colder months.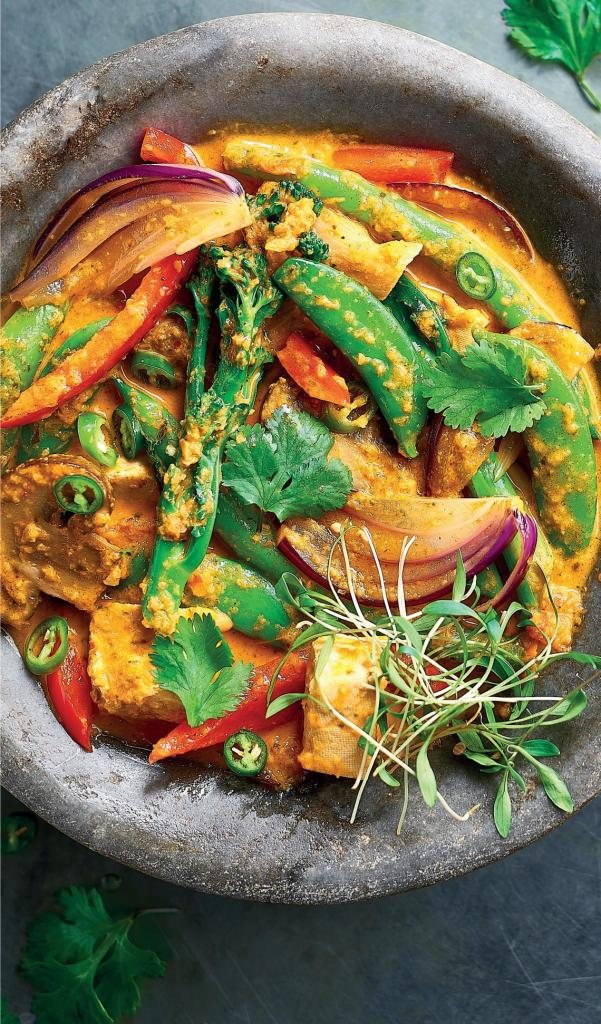 Ingredients:
For the paste:
1 stick lemongrass
4cm sized piece of galangal or 1 tsp galangal paste
4cm sized piece fresh root ginger
2 garlic cloves, peeled
15g fresh coriander
3 large red peppers from a jar
3 shallots, peeled
1 red chilli
Juice of 1 lime
3 lime leaves
2 tsp sesame oil
2 tsp soya sauce
For the curry:
Vegetable oil
1 red onion
1 bell pepper
200g mixed mushrooms
280g pack extra firm tofu
200g green beans, trimmed
200g Tenderstem broccoli
100g sugar snap peas
1 x 400g tin reduced fat coconut milk
1 fresh chilli
Serve with jasmine rice and mixed Asian cress (optional)
method:
Start by making the curry paste. You may not need all of this paste, so freeze any leftovers for another day.
Trim the stick of lemon grass and bash it with a rolling pin. Peel the tough outer layers, chop into pieces and add to a food processor. Peel and roughly chop the galangal and ginger, if using fresh, and add to the processor with the garlic cloves. Pick a few coriander leaves and place to one side then chop up the rest of the coriander and add to the food processor. Add the red peppers. Halve the shallots and halve and deseed the chilli (keep the seeds in if you want it a bit hotter). Add the rest of the paste ingredients, blitz until finely chopped and place to one side. The paste may be a little wet but that's totally fine.
Place a large saute pan on a medium heat and a medium-sized saucepan of water on to boil. Peel and finely slice the red onion. Deseed and slice the red pepper and tear or slice the mushrooms into thick pieces. Add one tablespoon of vegetable oil and the onion, pepper and mushrooms. Stir fry the vegetables for three minutes, then add most of the paste and continue to stir. Add the tofu and continue to stir fry for another two minutes. Slowly pour the coconut milk into the pan and reduce the heat to low.
Add the green beans, broccoli and sugar snap peas to the pan of boiling water, cook for two minutes. Drain the vegetables and stir into the pan of curry. Allow the curry to simmer for a few minutes while you cook the jasmine rice.
Pick over the remaining coriander leaves, slice and scatter over the remaining chilli, top with a pinch of Asian cress and serve.
Print Recipe
www.pipspence.com
Did you make this recipe?
Share your creations by tagging @livegreenandgood on Instagram with the hashtag #livegreenandgood