Vegan No-Bake Mango Cheesecake
Serves: 12
Ready in: 30 to 60 mins
Sweet and fruity, these mini vegan cheesecakes have a golden biscuit and white chocolate base with a silky smooth centre. They're incredibly simple to whip up and don't need to be baked, so are perfect if you're planning a dinner party and want an easy dessert to impress your guests with – just be sure to budget a few hours for the cheesecakes to set.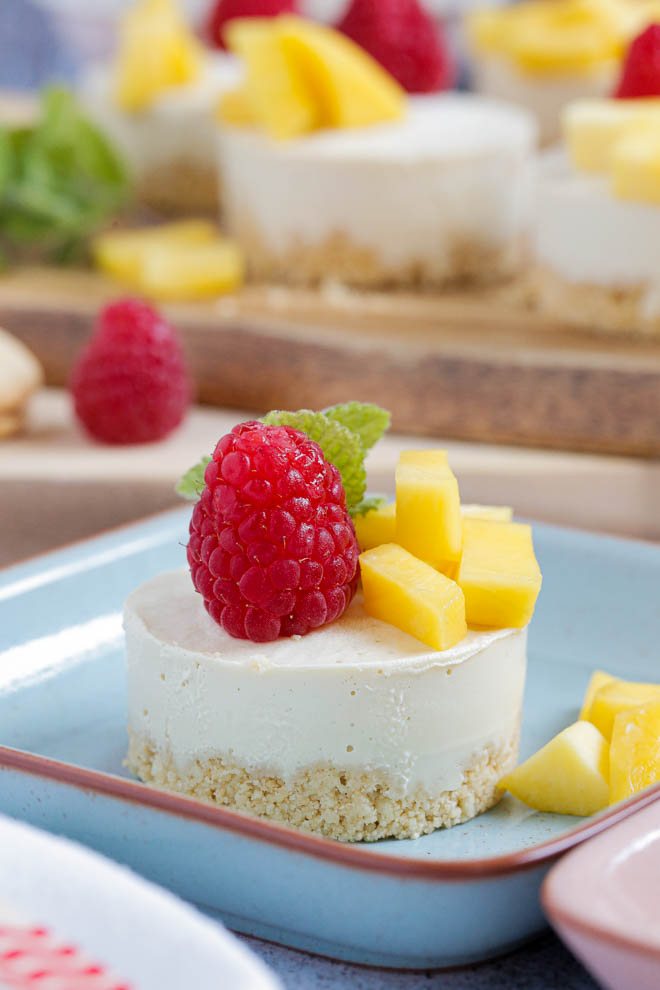 Ingredients:
For the base:
18 Golden Oreos
85g dairy-free white chocolate
2 tbsp (30g) vegan butter, melted
For the cheesecake filling:
200g cashews
200ml dairy-free milk
juice of ½ lemon
½ mango, peeled and flesh roughly chopped
30 drops Foodie Flavours Mango Flavouring
100g agave syrup (or substitute with maple syrup)
2 tbsp coconut oil, melted
method:
Start by soaking the cashews for the filling. This can be done for an hour in boiling water, or overnight in cold water. Cover completely with water and leave to soak.
To make the base, put the biscuits and white chocolate (break the chocolate into pieces if not using chocolate chips) into a food processor and blend to fine breadcrumbs. Drizzle in the melted butter for a final whizz.
Spoon the base mixture between the 12 holes of your tin, then press them until flat and compact. I use the flat end of a rolling pin but you can use the bottom of a glass or even a teaspoon. Just press until firmly packed down.
To make the filling, drain the cashews and discard the water, then put them into a blender cup along with all of the remaining ingredients. Whizz until very smooth and creamy. I scrape the mixture out of the blender cup into a jug, then pour the mixture over the biscuit base. Gently tap the tin on the counter a couple of times to level the tops. Carefully put the tin in the freezer (don't push the bottoms of the tin!) and leave to set for a few hours.
Up to one hour before you're ready to serve, take the tin out of the freezer and leave for a few moments, until you can push the cheesecakes up from the bottom out of the tin. Remove the metal disc base and put onto a serving plate. Dependent on ambient temperature, leave to soften for 30-60 minutes before eating. Store the cheesecakes in the freezer.
Print Recipe
www.foodieflavours.com
Did you make this recipe?
Share your creations by tagging @livegreenandgood on Instagram with the hashtag #livegreenandgood