The Best Gluten-free Pizza
Serves: 2
These delicious gluten-free pizza bases are thin and crispy and easy to make at home. Using rice, gram and quinoa flour instead of traditional wheat pizza flour means that coeliacs and those vegetarians on a gluten-free diet are happy too! This can also be adapted for vegans.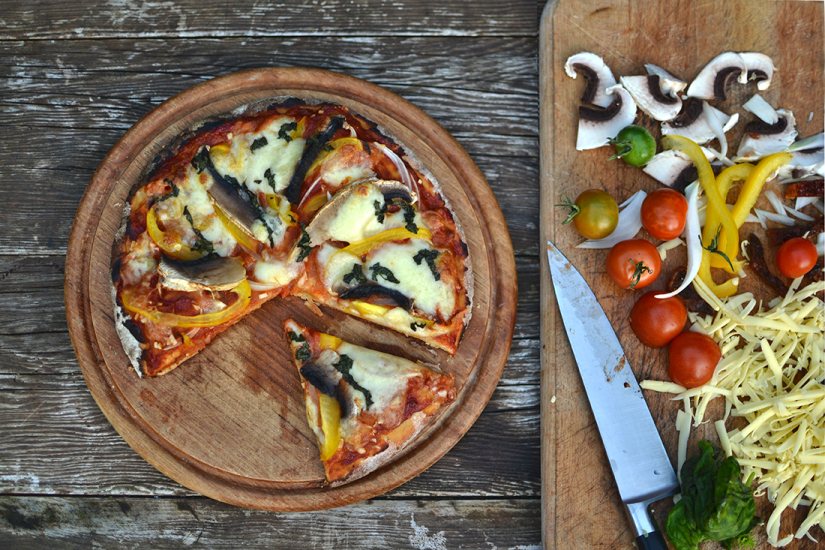 Ingredients:
150ml plant milk
½ tsp sugar
½ tsp yeast powder
2 small free range egg whites or (vegan friendly) 2 tablespoons of ground flaxseeds mixed with 2 tablespoons of water
65g rice flour
65g gram flour
120g quinoa flour
1 tsp xantham gum powder pinch of salt
1 tbsp oil
30g extra of either flour for dusting surfaces
Your favourite pizza toppings
method:
Place a small pan on the heat and warm the milk. Before it boils turn off the heat and stir in the sugar and the yeast. Dissolve/stir well and leave warm milk to sit.
If you haven't already, separate the egg whites from the yolks into a bowl and whisk well with a fork or whisk until light and bubbly.
In a large bowl, combine the flours, the xantham gum and salt. Then add the egg whites and tbsp. oil a bit at a time, mixing into a dough.
Should be a bit sticky but if you can't get it out of the bowl using your hands, add a touch more flour until you can.
On a floured surface, knead the dough to turn it into a smooth workable texture, sprinkling flour on the surface below as you go.
If you have time, leave this dough to sit/prove in a warm spot in your kitchen for 40mins-1hr. In this time, it should increase in size a little. Creating an even lighter crispy base! (If you don't have time, it still works fine)
Preheat the oven to 160C/325F/Gas3
Divide your dough into 2 balls, and roll out and shape on the floured surface, making sure it doesn't stick. Roll out to approx. 5mm thick and keep edges neat and not broken if possible as reduces burnt edges on final pizza.
Bake the base only (no toppings yet!) for 7-10 mins only on 160 degrees. It will brown a little and puff up nicely.
Remove from the oven and flip it over before letting cool. Again allowing more air to the underside of the base preventing soggy bottoms!
Now top with your favourite toppings. Begin with a tomato passata. Then add chopped garlic, finely shredded white onion, thinly sliced mushrooms, sliced yellow peppers, fresh basil, fresh vine tomatoes and roughly cut up mozzarella (or violife vegan cheese) for a vegetarian or vegan pizza.
Return to the oven and cook for a further 7-10 mins or until the cheese is melted nicely.
Print Recipe
www.indigo-herbs.co.uk/
Did you make this recipe?
Share your creations by tagging @livegreenandgood on Instagram with the hashtag #livegreenandgood