Tenderstem and Chickpea Salad
Serves: 4
Ready in: Under 15 Mins
Eco Friendly Gluten Free‏ Quick Make Vegan Friendly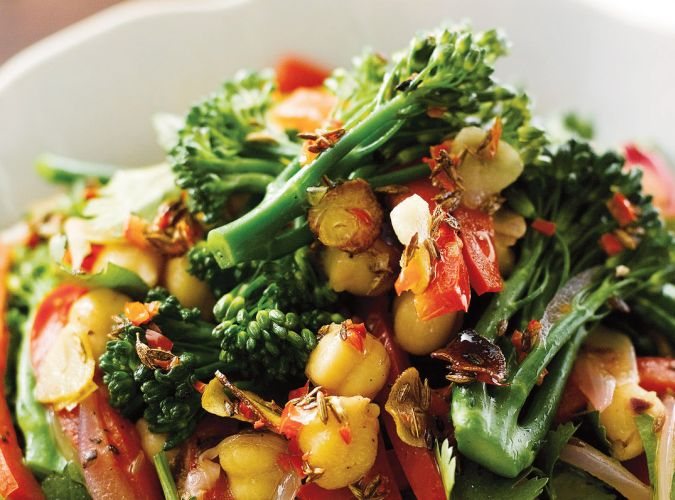 Ingredients:
2 tbsp olive oil
1 tsp cumin seeds
1 garlic clove, thinly sliced
1-2 small red chillies, chopped
200g Tenderstem broccoli, cut into whole florets, stems cut into diagonal spears
200g chickpeas (canned or boiled)
1 medium red onion, thickly sliced
1 medium red pepper, cut into julienne (narrow strips)
2 tbsp lime juice
sea salt and black pepper
a handful of chopped coriander
method:
Heat the oil in a non-stick wok, sauté cumin seeds and garlic until translucent, then add red chilli and broccoli and sauté for one minute. Stir in the chickpeas, onion and red pepper.
Sauté for 30 seconds then remove from the heat and add lime juice, correcting the seasoning with salt and pepper. Toss through the coriander and serve immediately.
Print Recipe
www.tenderstem.co.uk
Did you make this recipe?
Share your creations by tagging @livegreenandgood on Instagram with the hashtag #livegreenandgood