Sweet Potato & Tofu Quiche
High in protein and providing a source of dietary fibre, this quiche comes in at only 212 calories per slice. It's also high in vitamin A, B1, B2, B3, B6, calcium, manganese and folate and a good source of phosphorus, magnesium, iron, zinc, copper and selenium.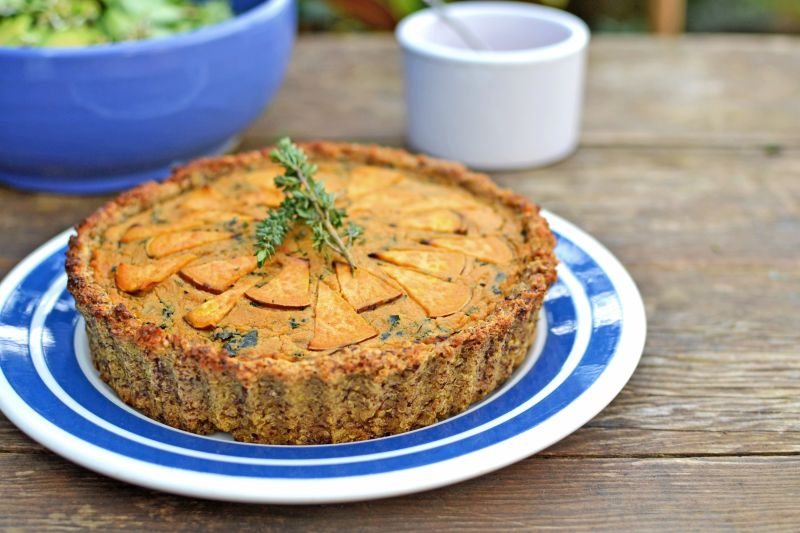 Ingredients:
FOR THE CRUST:
15g or 2 tbsp flaxseed flour
6 tbsp cold water
130g quinoa
300ml water
1 tsp vegetable stock
FOR THE FILLING:
35g white onion
200g spinach
1 tsp coconut oil, for frying
250g firm tofu (broken into chunks)
125ml rice milk (or another plant milk)
1 tbsp nutritional yeast
170g sweet potatoes (pre-roasted)
1/2 tsp dried thyme
pinch of pink Himalayan salt
pinch of black pepper
method:
Start with the quinoa crust: First, make your flax 'egg' by mixing the water and flaxseed flour together in a glass or small container. Set aside.
Preheat the oven to 180C/360F/Gas 4. Boil the quinoa in the water and veg stock for 15-20 minutes on medium heat or until all water boiled away. Rinse and leave to cool. When it is cool add the flax mixture to the quinoa and mix in well, you will notice the flax has set, forming a sticky mixture which helps the grains stick together to make the crust.
Using clean wet fingers, press the quinoa into a pre-greased six-inch quiche tin, (best if it has a removable base). This is sticky business but is quite fun! Carefully mould the mixture into the corners and up the sides to create a shell for the filling.
Bake for 15-20 minutes until the top edges have begun to brown and the crust has shrunk away from the edges of the dish a little. Remove from oven to cool.
Next, make the filling: chop the onion and fry in a little coconut oil on a low heat with pinch of pink salt for five minutes or so. Add the spinach and stir until wilted.
In a large bowl, place the firm tofu, plant milk, nutritional yeast, sweet potato flesh and the thyme. Using a hand blender or food processor, blend this mixture until smooth, add salt and pepper to taste. Stir in the cooked onions and spinach.
Spoon the mixture into the quinoa crust, filling right to the brim, smoothing out with a spoon. Bake at 200C/400F/Gas 6 for 30 minutes then turn the oven down and cook for a further 10 minutes on 150C/300F/Gas 2 or until brown.
Leave the quiche to cool entirely or it will not set. Remove from casing, cut with sharp knife, serve and enjoy!
Print Recipe
indigo-herbs.co.uk
Did you make this recipe?
Share your creations by tagging @livegreenandgood on Instagram with the hashtag #livegreenandgood