SuperGreen Seeded Energy Bars
Serves: 10
This easy to make, vegan, gluten-free, recipe includes a simple ingredient list of Indigo Nutrition SuperGreen powder blend, gluten-free oats, seeds and dried fruit. These bars will supply you with dense nutrition, slow release energy, protein and anti-oxidants. Perfect for refuelling after the gym, or for a mid-afternoon energy boost.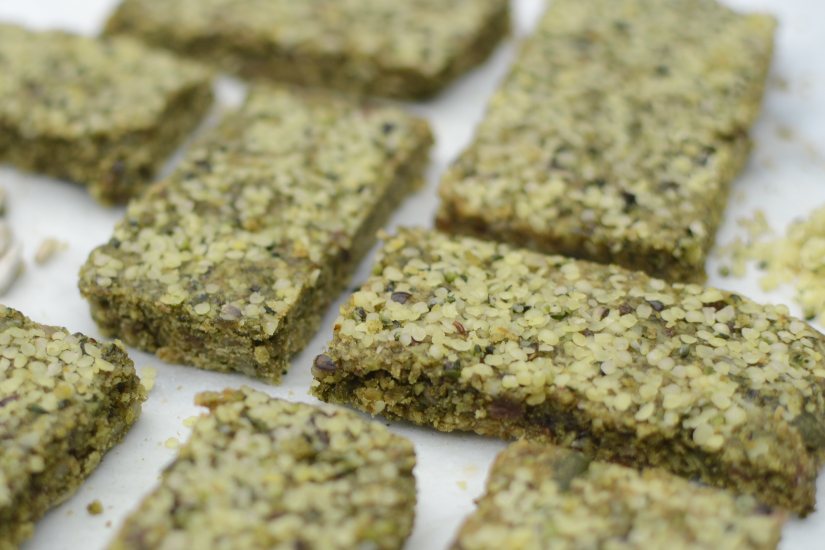 Ingredients:
75g gluten-free oats
75g sunflower seeds
90g hulled hemp seeds
80ml apple juice
50g dried apricots
50g dried dates
2 tsp Indigo Nutrition SuperGreens Powder
60ml coconut oil (melted)
method:
Preheat oven to 125 degrees c.
Melt the coconut oil in a bain-marie (basin over a pan of pre-boiled water)
In a blender blitz the oats for just a few seconds to create a rough flour, turn out into a large mixing bowl
Do the same with the sunflower and hemp seeds, blend for just a few seconds, keeping a handful of hemp seeds back for the topping. Turn this out into the mixing bowl with the oats
Put the dates and apricots in the blender with the apple juice and blend until nearly smooth. Add this paste to the bowl.
Add melted coconut oil to the bowl.
Then add the Indigo Nutrition SuperGreen powder to the bowl and mix everything well, ensuring it is all blended and a bit sticky.
Line a baking tray with greaseproof paper and spread out the mixture well. Use a wet spoon to spread and press down well. Keep edges neat to avoid burning, Aim for about 1 cm thick.
Next sprinkle the top with the remainder of the hemp seeds and press down well
Bake in the middle of the oven for 25-30 mins until starting to brown at the edges.
Leave to cool before cutting into bar shapes.
Print Recipe
www.indigo-herbs.co.uk
Did you make this recipe?
Share your creations by tagging @livegreenandgood on Instagram with the hashtag #livegreenandgood