Strawberries with Apple Sorbet
Serves: 4
Ready in: Under 15 Mins
Eco Friendly Freezes Well Gluten Free‏ Quick Make Vegan Friendly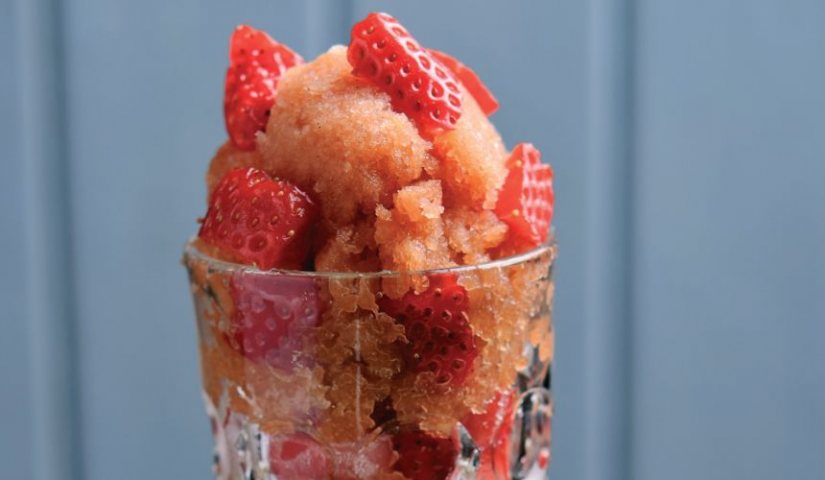 Ingredients:
500g strawberries
6 Pink Lady apples
zest and juice of 1 unwaxed lemon
4 tbsp grenadine cordial
50ml elderflower cordial
100g caster sugar
4 mint sprigs
method:
Hull the strawberries and slice them into small pieces. Set aside in a covered bowl.
Peel, core and thinly slice the Pink Lady apples and place them in a blender along with the strawberries, lemon zest and juice, grenadine cordial, elderflower cordial and sugar. Purée until the sorbet mixture is completely smooth.
Place the strawberry and apple purée in a clean container with a lid, smooth it over with a fork until it's completely level and then cover with the lid.
Freeze the purée for half an hour. Whisk it through with a fork and smooth over again in its container. Freeze once more until quite solid but of a spoonable consistency.
Place a generous spoonful of strawberry and apple sorbet in a serving dish and top with chopped strawberries.
Print Recipe
www.sweetevestrawberry.co.uk
Did you make this recipe?
Share your creations by tagging @livegreenandgood on Instagram with the hashtag #livegreenandgood