Sticky Gingerbread Pudding with Toffee Sauce
Serves: 6
Ready in: 60 mins +
Know your nutrients
This moist and moreish sticky ginger pudding reminds us of family dinners when we were a child. This British classic makes for a lovely end to the meal, or as a weekend tea-time treat.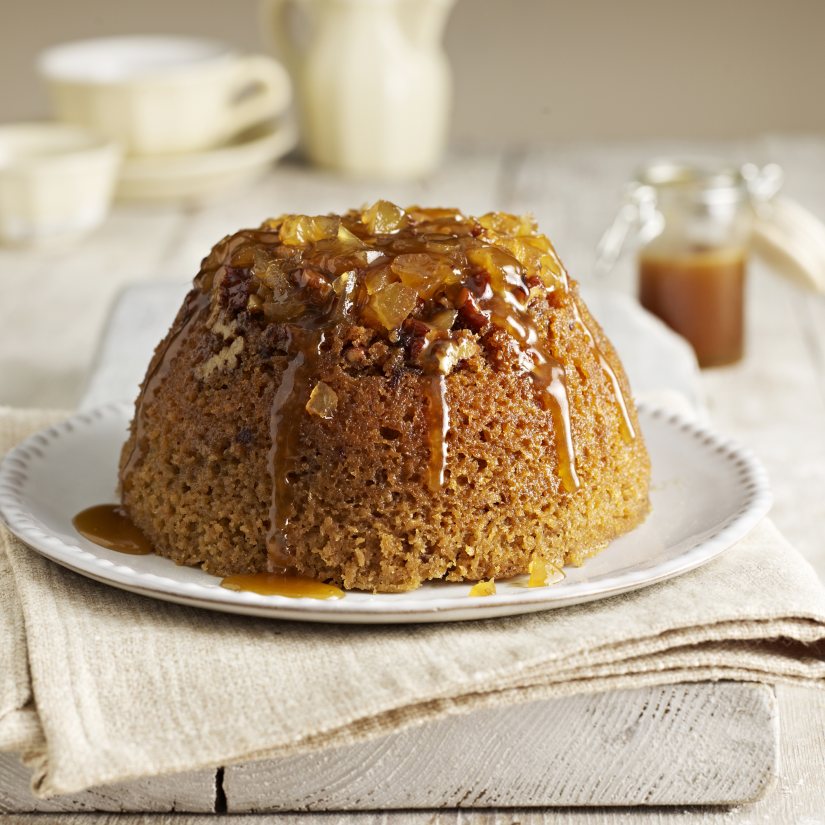 Ingredients:
For the toffee sauce:
150g soft brown sugar
100g unsalted butter
3 tbsp ginger syrup
75ml ginger wine
For the pudding:
40g pecans, toasted & roughly chopped
175g butter, softened
120g light soft brown sugar
3 free-range eggs
1 heaped tsp root ginger, finely grated
2 tbsp ginger syrup
100g medjool dates, stoned & chopped
175g self-raising flour
1 tsp ground ginger
½ tsp ground cinnamon
½ tsp ground mixed spice
butter, for greasing
4 chunks stem ginger in syrup, roughly chopped
method:
Butter a 1.7-litre pudding basin and put a tablespoon of the chopped stem ginger in the base. Set half of the remaining ginger aside and finely chop the rest.
To make the toffee sauce, melt the sugar and butter together over a low heat until the sugar has dissolved. Increase the heat and whisk in the syrup and wine, simmer for one minute, then add the remaining roughly chopped stem ginger. Remove from the heat.
Add the pecans to the pudding basin and spoon over three tablespoons of the toffee sauce.
In a separate bowl, beat the butter and sugar together until light and fluffy, then add the eggs one by one, beating thoroughly after each addition.
Stir in the finely chopped stem ginger, root ginger, syrup and dates, then sift the flour and spices into the bowl and fold in.
Spoon the mixture into the pudding basin, cover with a sheet of buttered greaseproof paper then a sheet of foil, and secure with string.
Put the basin in a large saucepan, add enough boiling water to come halfway up the basin and put over a low heat. Cover the pan and steam for three hours, topping up the water as necessary.
Remove the basin from the saucepan and allow to cool for five minutes. Reheat the toffee sauce and put it into a jug, turn the pudding out onto a plate and serve together.
Print Recipe
blog.lakeland.co.uk/recipe/sticky-gingerbread-pudding-with-toffee-sauce/
Did you make this recipe?
Share your creations by tagging @livegreenandgood on Instagram with the hashtag #livegreenandgood