Sri Lankan Spiced Vegetable Curry with Coriander Yoghurt
Serves: 8
Ready in: 60 mins +
Know your nutrients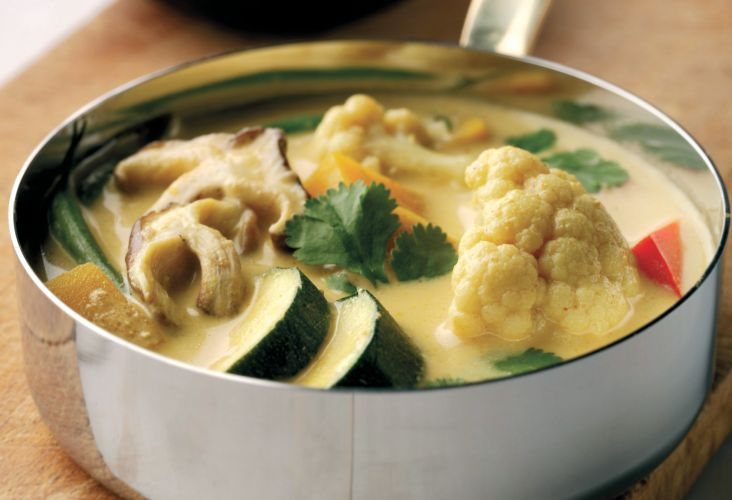 Ingredients:
[hd]For the roasted curry powder[/hd]
½ tbsp coriander seeds
1 tbsp cumin and fennel seed
2.5cm cinnamon stick
5 cardamom pods
½ tsp black mustard seeds
1 tsp fenugreek seeds
½ tsp black peppercorns
1 dried chilli
1 tbsp basmati rice

[hd]For the sauce[/hd]
2 onions, sliced
3 garlic cloves, sliced
6cm piece fresh ginger, grated
2 lemongrass stalks, each
chopped into 6 bits
10 curry leaves
7cm cinnamon stick
4 cloves
5 cardamom pods
1 tsp turmeric
2 tsp chilli powder
2 tbsp of the roasted curry powder (the one you'll just have made!)
800ml coconut milk
800ml veg stock (use a stock cube if you like)
150g Total Greek Yoghurt
15g palm sugar
1 ½ limes, juiced

[hd]For the vegetables[/hd]
200g butternut squash, peeled,
diced and cut into 1in cubes
½ small cauliflower, cut into large florets
10 shiitake mushrooms, thickly sliced
2 courgettes, fairly thickly sliced
1 red pepper, diced
40 French beans, cut in half

[hd]To serve[/hd]
100g Total Greek Yoghurt, a handful of fresh coriander and cooked sticky rice (optional)
method:
First, make the roasted curry powder. Heat a frying pan and, without adding any oil, fry all of the spices and rice together – stirring occasionally. The spices will start to smoke a little and but be careful not to burn them. After they've darkened slightly in colour, tip out and cool.
Once cool, grind the spices to a fine powder using a pestle and mortar and put aside.
To make the sauce, heat a large casserole pan and pour in around a tablespoon of vegetable oil. Add in the onions, garlic, lemongrass and ginger and gently fry until a very pale golden colour.
Add the curry leaves, cinnamon, cloves, cardamom, turmeric, chilli powder and your homemade curry powder. Mix in well.
Pour in your vegetable stock and coconut milk and simmer for about 35 minutes.
Finally add the Greek yoghurt, palm sugar and the lime juice. Simmer for a further five minutes and then pass the sauce through a strainer to remove all the bits. Your sauce is made. Use around half of the sauce and freeze the rest for future use.
When ready to serve, prepare the veg as stated, heat your sauce and drop in the butternut squash and cauliflower. Two minutes later (if you like your squash very soft, 5-10 minutes later) add the mushrooms, courgette, pepper and green beans and cook for a further 3-4 minutes.
Mix the Greek yoghurt with the coriander. Serve the curry with sticky rice and a blob of coriander infused Greek yoghurt on top, if liked.
Print Recipe
www.totalgreekyoghurt.com
Did you make this recipe?
Share your creations by tagging @livegreenandgood on Instagram with the hashtag #livegreenandgood